Robin Wright on sexual misconduct allegations against Kevin Spacey: "I think we were all surprised"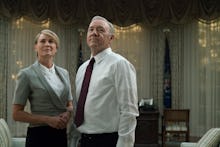 Robin Wright, who played opposite Kevin Spacey for years on Netflix's political drama House of Cards, spoke with Today's Savannah Guthrie on Monday morning about the allegations of sexual misconduct against her former co-star.
"I think we were all surprised, of course, and ultimately saddened," Wright said. "We forged ahead and we were so thankful that we were able to complete the series as planned."
In the sixth and final season of House of Cards, Wright, as Claire Underwood, will headline the show without Spacey, who played her husband, Frank Underwood. Wright will also direct the series finale, which will arrive, with the rest of the season, later in 2018.
In October, actor Anthony Rapp accused Spacey of making a sexual advance toward him when Rapp was 14 and Spacey was 26. In an interview with BuzzFeed, Rapp said he was inspired by the ongoing #MeToo movement, which was brought into the mainstream when women started coming forward with allegations of sexual misconduct against Harvey Weinstein and other powerful men in Hollywood.
Since then, several additional people have come forward with similar allegations of sexual misconduct against Spacey, including three more recent allegations that are currently under investigation by British police. Wright told Today that before the allegations came to light, she didn't really have any indication Spacey would be capable of the acts he's been accused of.
"We were co-workers, really," Wright said. "We never socialized outside of work. [It was a] respectful, professional relationship. He was so great with me. He was never disrespectful to me. That's my personal experience. That's the only thing that I feel I have the right to talk about."
When Guthrie asked if Netflix made the right move by firing Spacey from House of Cards' final season, Wright didn't give a concrete answer, but spoke more generally about the effect of the allegations against Spacey on the public.
"I don't know how to comment on that," Wright said. "But I think at that time the shock was so intense all over the nation, for many reasons, many stories, many people, I think that everybody felt that it was respectful to back off."
Wright concluded by speaking about the effects she hopes #MeToo will have on the world at large.
"This is a bigger, broader issue, I think, which is seduction," she said. "I don't care who you are — it's about power. And once you overpower someone, that person then becomes vulnerable. And this last year, I think, has shined a light in a new way to allow us to start a new conversation. We just need to shift the paradigm."