Here are the 5 best outfits from episode 6 of 'Pose,' including 2 — yes, 2 — yellow trench coats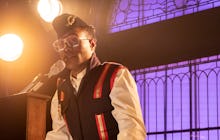 The sixth episode of FX's series Pose marked the directorial debut for activist and writer Janet Mock, who has worked extensively on the series. And, yes, it was a doozy. Unlike some of the earlier episodes steeped in camp and humor, episode six marked a dramatic high for the series, where conflicts that had been bubbling since the premiere came to a full boil.
As such, this episode was a bit lighter on the frothy, fantastical runway shows we've typically seen thus far. The best fashion moments weren't just in the ballroom, but also in the more everyday 1980s streetwear. Since there weren't quite as many looks that knocked us off our chairs, we've whittled this week's roundup down to five from the usual 10.
It shouldn't surprise you that Elektra Abundance (Dominique Jackson) managed to take the cake, in terms of looks, despite appearing onscreen for a total of approximately 5.4 seconds this week. But she's far from the only one who brought it. Let's dive in.
5. Pray Tell's yellow, oversized trench coat, white hat and shimmery gold pants
4. Candy's black top with a slouchy halo of yellow bows
3. Pray Tell's military-inspired emcee fantasy
2. Angel's silky, yellow, embroidered trench over white, high-waisted pants and a green top
1. Elektra Abundance in her billowy, low-cut top and posh floral hat