Pulitzer- and Emmy-winning journalist Natasha Del Toro joins Mic as anchor of 'Mic Dispatch'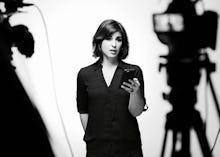 Mic today announced Natasha Del Toro as anchor of Mic Dispatch, launching on Facebook Watch on July 17th at 8:00pm ET. Del Toro, a Pulitzer- and Emmy-winning journalist, has spent her career reporting on a wide range of topics core to Mic, from politics and immigration to social justice movements. She will host Mic's twice-weekly newsmagazine program on Facebook Watch.
Del Toro has produced and served as a correspondent for Fusion's investigative documentary series now streaming on Netflix, The Naked Truth; for the 10-part documentary HBO series Outpost; and as the host of America Reframed, a national, award-winning PBS documentary program now in its sixth season. Del Toro has reported on a wide range of topics for Time.com including the Haiti earthquake, and produced stories in Cuba, Haiti and Peru for PBS' Frontline/World. Her work with photographer Joakim Eskildsen in American Realities, which revealed poverty in America, led to an Emmy-award winning documentary by KQED and the Center for Investigative Reporting called Hunger in the Valley of Plenty. She is a Colombia Fulbright scholar, and collectively her work has been awarded a DuPont, an Emmy, a Pulitzer, an RFK and a Gracie award.
"We're thrilled to have Natasha join Mic Dispatch, bringing her passion for exploring our culture's tectonic shifts and pairing with it her investigative chops to bear out the nuance and truths of change," Cory Haik, Mic publisher, said.
Mic Dispatch will be a 15-minute, twice-weekly, correspondent-driven show that will cover this momentous cultural era the way we see it: complicated, diverse and full of potential. Led by Del Toro, each episode will feature two stories that reflect Mic's core focus: change through the lens of social movements, politics and culture.
"Our correspondents will take you places you can't go anywhere else," Kerry Lauerman, Mic's executive news director, said. "The stories will be essential to understanding the incredible moment of change we're living through right now."
Full episodes of Mic Dispatch will air on Facebook Watch beginning on July 17th, airing Tuesdays and Thursdays at 8:00pm ET thereafter. Visit https://www.facebook.com/Mic-Dispatch-1910949508927818/ for more information and to tune in.