Hype Daily: Johnny Depp is being sued, Tyra Banks is going 'Life-Size' again and more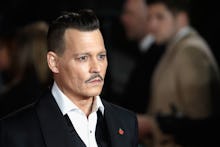 Welcome to Hype Daily, Mic's morning entertainment roundup. Here's everything you need to catch up on in the entertainment world and what to look forward to today. Want to receive this as a daily email in your inbox? Subscribe here.
Good morning from Hype reporter Anna Swartz.
Johnny Depp is being sued for allegedly punching someone on a movie set
Actor and alleged domestic abuser Johnny Depp is being sued by someone who says that Depp punched him twice on the set of a film. The Associated Press reported on Monday that Greg "Rocky" Brooks, a location manager, says in a lawsuit that Depp yelled obscenities at him and punched him twice back in April 2017, on the set of City of Lies, a film about the murder of rapper Notorious B.I.G.
Brooks also alleges that Depp shouted, "I will give you $100,000 to punch me in the face right now!" According to his lawsuit, Brooks was later asked to sign a declaration saying he wouldn't sue, and when he refused, he was fired.
A sequel to Life-Size is really happening
Yes, the rumored sequel to Life-Size, the made-for-TV movie where Tyra Banks played a doll that comes to life, is finally happening. Banks tweeted the news on Monday, along with the announcement that Francia Raisa of Grown-ish will co-star.
"Now filming: LIFE-SIZE 2," the tweet said. "It's time y'all! You've waited long enough. Could not find one single woman more perfect to co-star with Eve than the magnificently fierce @franciaraisa. See you on @FreeformTV this holiday season! #LifeSize2 #ShineBrightShineFar."
The original movie starred Lindsay Lohan as a kid who accidentally turned her doll into a human, but it doesn't look like Lohan is coming back for round two. Still, I personally can't wait to see what lessons we'll all learn from Eve the doll this time around.
RIP Tab Hunter
On Monday, the internet lit up with tributes to actor Tab Hunter after news broke that the actor had died Sunday at the age of 86. A Hollywood star of the 1950s and '60s, Hunter was an industry heartthrob. As Hunter revealed in a 2005 autobiography, he was also gay and had had to keep his sexuality a secret from the public. His autobiography also revealed that the star had had a secret relationship with Psycho star Anthony Perkins. At the time of his death, Hunter had been with his partner, Allan Glaser, for 35 years.
The trailer for the new season of OITNB is here
The Netflix original series Orange Is the New Black returns July 27, and the new trailer for season six dropped on Monday. Last season, which followed the women of Litchfield Penitentiary over the course of a prison riot, ended with somewhat of a cliffhanger — but from the new trailer it seems like the show's ensemble cast has wound up in a maximum security prison, struggling to navigate a different environment. Season five got mixed reviews, but I'm personally ready to give the next season a chance.
Put this on your radar: SpongeBob Squarepants: The Broadway Musical
OK, yes, you have to physically be in New York City to see this show but producers of SpongeBob Squarepants: The Broadway Musical announced on Sunday that the show will close on Sep 16, so if you have any desire to see SpongeBob onstage in the Big Apple, there's only a few months left.
The musical version of the Nickelodeon cartoon is a surreal, surprisingly thoughtful story with a flashy underwater set and music from people like Cyndi Lauper, John Legend, Panic! At the Disco, They Might Be Giants and T.I. You don't have to have seen a lot of the cartoon to get the Broadway show, but it helps.