A Kickstarter for a Ruth Bader Ginsburg action figure just raised over $600,000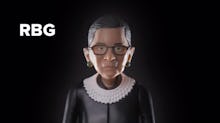 A crowd-funded Kickstarter campaign for a lifelike action figure of Supreme Court Justice Ruth Bader Ginsburg has raised over $600,000. When the fundraising window ends Tuesday morning, the campaign will have exceeded its funding goal of $15,000 by over 4,000%.
The campaign was started by FCTRY, an artsy Brooklyn-based product design company. According to a press release, the RBG Kickstarter is FCTRY's most successful crowd-funded campaign to date. On its Kickstarter page, FCTRY said it selected RBG as the subject of its newest campaign because she's a "tremendously positive and inspirational character to so many different kinds of people."
"Knowing that some of these figures will surely wind up in the hands of young girls and boys who may, quite possibly, grow up entirely free of all of the antiquated stereotypes that RBG has spent her life dismantling is both gratifying and humbling," FCTRY's Kickstarter says.
In an email, FCTRY said it'll donate $1 from every sale of its RBG action figure to She's The First, an organization that provides scholarships and education programs to young women around the world.
The action figure's prototype was sculpted by Mike Leavitt, a Seattle-based artist, who imbued the 6-inch replica of RBG — who's holding a teeny tiny gavel — with her characteristic, piercing gaze. RBG's just the latest offering from FCTRY, which also sells replicas of former president Barack Obama, Sen. Elizabeth Warren, Hillary Clinton and, yes, Donald Trump. (He's sold out. Sorry.)
July 10, 2018, 10:58 a.m.: This story has been updated.