Today in Trump's America: Confirmation battle begins for Trump Supreme Court nominee Brett Kavanaugh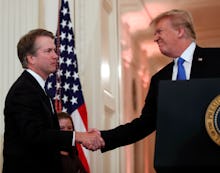 Welcome to Mic's daily read on Donald Trump's America. Want to receive this as a daily email in your inbox? Subscribe here.
Good morning from Emily Singer at Mic.
Here's what's happening in Trump's America:
• Trump is traveling all day to Brussels, where he'll attend a NATO summit. Expect a showdown at the summit, as Trump has been attacking fellow NATO member countries.
About last night: Trump nominates conservative Kavanaugh to the Supreme Court
The battle to confirm a successor to retiring Supreme Court Justice Anthony Kennedy is officially underway, as Democrats and other interest groups opposed to D.C. Circuit Judge Brett Kavanaugh's nomination pick through his record.
NBC News reported the White House tried to convince Kennedy to retire for months by promising Trump would nominate Kavanaugh, who was one of Kennedy's former clerks — which is sure to be attacked by Democrats and other Kavanaugh opponents.
And opposition research is also beginning to trickle out as people sift through Kavanaugh's legal decisions as well as documents he wrote as part of Kenneth Starr's investigation into former President Bill Clinton — which helped lead to Clinton's impeachment. The documents include an excruciatingly specific line of questioning Kavanaugh wanted to ask Clinton about where he ejaculated during sexual encounters with Monica Lewinsky.
McConnell warned Trump that Kavanaugh would be harder to confirm in the almost evenly divided Senate, thanks to his long paper trail, according to the New York Times, yet Trump nominated him anyway.
Aside from Kavanaugh's record on the Starr investigation, others are looking into Kavanaugh's legal record. It's unclear how Kavanaugh would rule on Roe v. Wade, the landmark case that protects a woman's right to an abortion. During his confirmation to the D.C. Circuit Court, Kavanaugh said Roe v. Wade was decided law and he would uphold it. However, that position is no longer operative, as he would now have the opportunity to strike down the Roe v. Wade decision.
Kavanaugh is a conservative judge who has ruled in favor of the National Security Agency's surveillance techniques and against voting rights.
Kavanaugh has also argued that presidents "should not be distracted by civil lawsuits, criminal investigations or even questions from a prosecutor or defense attorney while in office" — an argument that could be problematic given special counsel Robert Mueller's investigation into the Trump campaign.
Kavanaugh also wrote in a 1998 Georgetown Law Journal article that a president should not be able to be indicted until, "after he leaves office voluntarily or is impeached by the House of Representatives and convicted and removed by the Senate."
Today in Trump's America: Trump heads to Europe for a NATO summit
Expect a showdown in Brussels this week, as Trump has been attacking NATO allies more than U.S. adversaries like Russia or North Korea ahead of the NATO summit.
NATO is a military alliance between the U.S., Canada and a host of European countries created to keep North Atlantic countries safe. Before Trump took office, NATO meetings were uneventful, as the countries in the alliance for the most part got along. However, Trump has accused other member countries of not paying their fair share into the organization and has caused tension between Western democratic countries, according to the New York Times.
Causing tensions between the West is a key objective of Russian President Vladimir Putin, whom Trump is also set to meet with in an one-on-one summit in Helsinki.
As he left the White House for the overseas trip, Trump said that his meeting with Putin would be the "easiest of them all" — a comment that will certainly lead to condemnations.
And the rest…
Child separations: A federal judge on Monday night ruled that the Trump administration could not ignore an agreement that prevents immigrant children from being detained indefinitely. U.S. District Court Judge Dolly M. Gee in California issued a strongly worded opinion saying that the Department of Justice's request to detain families together indefinitely is "wholly without merit" and is a "cynical attempt" to "shift responsibility to the Judiciary for over 20 years of Congressional inaction and ill-considered Executive action that have led to the current stalemate."
GOP House candidate promotes white nationalist propaganda: Seth Grossman, the GOP nominee in a competitive House contest in New Jersey, promoted white nationalist propaganda that said black people "are a threat to all who cross their paths," according to Media Matters. Grossman's promotion of the propaganda led the National Republican Congressional Committee to drop support for his candidacy. Grossman is running in New Jersey's 2nd District, a competitive seat being vacated by retiring GOP Rep. Frank LoBiondo. The seat is now an almost certain Democratic pick-up in the fall.
Republican senator downplays Russian election meddling: Sen. Ron Johnson (R-Wis.) is downplaying Russia's election meddling after he visited Moscow last week. "I've been pretty upfront that the election interference — as serious as that was, and unacceptable — is not the greatest threat to our democracy," Johnson told the Washington Examiner. "We've blown it way out of proportion."