A sneak peek at EuroPride 2018 — held in 2 cities for the first time ever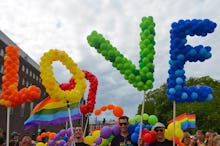 EuroPride 2018 will be a tale of two cities.
Sweden's two largest cities — Stockholm on the east coast and Gothenburg on the west — will cohost Europe's annual LGBTQ Pride fest from July 27 to August 19. It's the first time that EuroPride, founded in 1992, will be held in two locations.
Sweden has long been ahead of the curve on LGBTQ issues; among other things, it was the first country to legally recognize gender transitions, in 1972, and early to offer same-sex marriage rights. Stockholm is an established and cosmopolitan queer haven, and has previously hosted EuroPride in 1998 and 2008. Gothenburg is a seaport with working-class roots that has made significant strides in shedding a reputation for anti-LGBTQ sentiment. The pairing feels like a poignant way to share the hopeful story of an already progressive nation still in evolution toward something more perfect.
Before the summer's EuroPride celebrations rain glitter down on Swedish streets, I traveled to Stockholm and Gothenburg for a glimpse of the local queer culture. (Scandinavian Airlines and Visit Sweden helped provide travel and accommodations for this story.) Besides observing the standard excitement for an event of this scale, I learned that Sweden's September general election is front of mind for many LGBTQ folks. As right-wing political parties gain traction there, much like Trumpism in the United States, the emotional significance of EuroPride is being deeply felt.
Overall, it seems LGBTQ Swedes are hopeful about the future. That was refreshing, since, as an American living under Trump, it sometimes feels like hope is in short supply. But I found it watching the sun come up from the top deck of the Patricia, a multi-level lightship-turned-nightclub docked quayside by Stockholm's historic Old Town. Gay throngs descend there on Sundays for beers and bopping ("Girls Just Wanna Have Fun" sparked an irony-free singalong). They were still showing up at 3 a.m., when Sweden's spring sky started to turn from black to indigo.
In more ways than one, I thought, it was dark at home. I was grateful for the early light.
But even as Sweden celebrates the forward thinking that characterizes Scandinavian culture, there are growing rumblings of concern about the kind of far-right extremism and nationalism that is generally antipathetic to LGBTQ rights.
In fact, at least seven out of 10 LGBTQ travelers have experienced discrimination traveling abroad, according to Unequal Travel, a new campaign and search engine developed by EuroPride 2018 that lets users see which European destinations provide or lack fundamental protections.
"We have a more extreme, more to-right movement in Sweden, which is a threat to the LGBT community," said Mariya Voyvodova, deputy mayor of Gothenburg and chair of the city's 19-member LGBTQ council.
Gothenburg was once hounded by a homophobic reputation, at least by Swedish standards. Most infamous was the Keillers Park murder, a 1997 anti-gay hate crime in Gothenburg that became a national news story; one of the killers was the frontman of a popular Swedish black-metal band.
Gothenburg has worked to transform, said Voyvodova. In 2011, the rainbow flag was first hoisted in the city square. In 2013 Gothenburg became the first city in Sweden to form a municipal council focused on LGBTQ issues, and by 2014 it was deemed the most LGBTQ-friendly city in the country by the RFSL, Sweden's most prominent LGBTQ rights organization.
The city has also been evolving from a blue-collar seaport to a hip hub of life-science industries, and the gay community feels less segregated in this more modern Gothenburg, gathering in spaces like Bee Kök & Bar, a "straight-friendly" hangout that flies rainbow flags year-round from its indoor-outdoor space at a historic market hall in the heart of town.
How EuroPride 2018 came to be — and a preview of the lineup
In 2014, reps from Sweden's upstart West Pride, first held in Gothenburg in 2007, teamed with the more established Stockholm Pride, founded in 1998, to start the process of presenting a joint EuroPride bid to the European Pride Organizers Association. The EPOA includes 60 member prides that vote to select EuroPride locations at an annual general assembly. Other upcoming installments include Vienna in 2019 and Thessaloniki in 2020.
The EPOA was impressed by the idea of a first-ever two-city EuroPride, said London-based board member Steve Taylor, and by the chance to simultaneously recognize a long-progressive capital alongside a smaller city that has made big strides. The 2018 event's slogan is: "Two cities, one country — for a united Europe open to the world."
"At a time when nationalist and right-wing governments are coming into power across Europe, and when the LGBTI movement is facing crackdowns in countries like Turkey, it's important for the European Pride movement to come together," Taylor said. "Sweden has a strong human rights record, and EuroPride 2018 will celebrate this but send a strong message to the world — through the two human rights conferences that will be held — that more needs to be done."
These conferences, a series of LGBTQ issues-focused seminars and workshops led by politicians and activists, are a centerpiece of 2018's EuroPride festivities, said Dennis Mäkitalo, second vice-president of Stockholm Pride. But there'll be no shortage of playful partying around the nation's capital, including in neighborhoods like Södermalm, a bohemian district with a particularly visible queer scene. For instance, the Södra Teatern, a 19th-century seven-stage theatre and cultural landmark, will host a packed EuroPride lineup, including an appearance by Moxy, the city's major lesbian nightlife series.
Most of the signature Pride events in Stockholm will take place at Östermalms IP, a onetime Olympics sports ground that will be transformed into a LGBTQ playground with ticketed entry. There'll be dozens of vendors and food trucks, a "kinky quarter" where visitors can explore fetishes like pony play, and live entertainment like dance-pop act Alcazar, whose "In the Name of Love" was named 2018's official EuroPride theme song.
Gothenburg's West Pride, meanwhile, will host an entirely free lineup including a parade, Boy George and Culture Club concert and a burlesque gala with RuPaul's Drag Race winner Jinkx Monsoon.
Long before the Drag Race phenomenon made the gender-effing art form fully mainstream, Gothenburg-based performer Robert Aug grew up watching After Dark, a drag troupe founded in 1976 that was a popular fixture on Swedish television. Today, as Gretchen, his dragged-out DJ alter ego, Aug gigs mostly at straight and mixed events around the country. He has rarely been heckled, he says, and among the EuroPride 2018 events Gretchen will host are drag-styling sessions for kids. That the next generation of Swedes will learn to sashay so early in life is a testament to the positive trajectory for queer life in the country.
"It's gotten so open that straight parents bring their kids to these things," says Aug. "They don't think it's weird anymore."