We may never know Brett Kavanaugh's real opinion on 'Roe v. Wade'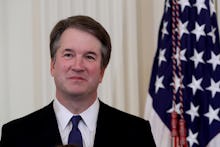 As debate swirls now that President Donald Trump nominated Brett Kavanaugh to the Supreme Court, one fact is clear ahead of the judge's Senate confirmation hearings: He has never publicly stated his personal opinion on Roe v. Wade, the landmark privacy case that gave people the right to an abortion in the United States.
During his confirmation hearing to sit on the Washington, D.C., Circuit Court in 2006, Kavanaugh merely said that Roe v. Wade was settled law, and that he would adhere to that precedent.
"On the question of Roe v. Wade, if confirmed to the D.C. Circuit, I would follow Roe v. Wade faithfully and fully," Kavanaugh said. "That would be binding precedent of the court."
But if Kavanaugh were confirmed to the country's highest court, he may have the chance to overturn that precedent, and imperil the right to a legal abortion for millions of people.
While Kavanaugh hasn't stated his personal opinion on abortion or Roe v. Wade, a 2017 dissent he wrote in a court decision regarding a 17-year-old undocumented immigrant who sought an abortion while in American custody sheds some light on his beliefs.
The D.C. Circuit Court ultimately ruled against the Trump administration, which tried to block the teenage girl from obtaining an abortion. But Kavanaugh dissented from the opinion, saying the court created a "new right for unlawful immigrant minors in U.S. government detention to obtain immediate abortion on demand."
"The majority's decision represents a radical extension of the Supreme Court's abortion jurisprudence," he wrote.
As he faces what is likely to be a contentious confirmation hearing, Democrats are likely to ask Kavanaugh his opinion on Roe v. Wade. And if past confirmation hearings are any indicator, Kavanaugh may never let the public in on his views on the matter.
Supreme Court Justice Neil Gorsuch, for instance, dodged questions about his views on past landmark cases.
"I would be tipping my hand and suggesting to litigants that I have already made up my mind," Gorsuch said during his 2017 hearing.
During his 2006 confirmation hearing to the Circuit Court, Kavanaugh refused to elaborate on his views about Roe v. Wade.
"I don't think it would be appropriate for me to give a personal view of that case," he said.
However, given Republicans' slim majority in the Senate, how Kavanaugh would rule on abortion cases could make or break his confirmation. Two Republican senators — Susan Collins of Maine and Lisa Murkowski of Alaska — are both pro-abortion rights, and could vote against a nominee they feel would not uphold Roe v. Wade. So far, Collins and Murkowski have not indicated they are leaning against his nomination.
"Judge Kavanaugh has impressive credentials and extensive experience, having served more than a decade on the D.C. Circuit Court of Appeals," Collins said in a statement Monday night. "I will conduct a careful, thorough vetting of the president's nominee to the Supreme Court, as I have done with the five previous Supreme Court justices whom I have considered. I look forward to Judge Kavanaugh's public hearing before the Senate Judiciary Committee and to questioning him in a meeting in my office."
"While I have not met Judge Kavanaugh, I look forward to sitting down for a personal meeting with him," Murkowski said in a statement Monday night. "I intend to review Judge Kavanaugh's decisions on the bench and writings off the bench, and pay careful attention to his responses to questions posed by my colleagues on the Senate Judiciary Committee."