RAICES wants to use $20 million to post bonds for immigrant mothers in detention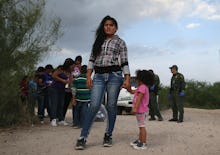 After receiving a record-setting influx of cash from citizens concerned about the horror of family separation along the border in June, the Refugee and Immigrant Center for Education and Legal Services is ready to put its money where its mouth is.
On Tuesday, the nonprofit group — which offers free and low-cost legal aid to immigrant and refugee families — announced that it would be offering $20 million to pay off bail bonds for over 2,000 mothers currently detained by the U.S. government.
For context, that's nearly as much as the group raised in total after its viral Facebook fundraiser, "Reunite an immigrant parent with their child," shattered records for charitable donations last month.
On July 10, the group said in a statement that it had sent representatives to Washington, D.C., with the money, and was prepared to write a check in order to help free detained mothers.
"We're in D.C. with a $20m check to pay bail bonds for over 2,000 mothers still detained," the statement read. "More than 1 million people donated over $20m and their message is clear: reunite the families. Trump says he's a deal-maker, here's his chance to cut a deal."
RAICES did not say how it intended to post bail once in D.C. or offer any details about the individuals it hoped to release. A spokesperson for RAICES could not immediately be reached for comment.
Although the Trump administration has waffled on the exact number of children it separated since the president announced his planned crackdown on immigration in May, the latest numbers suggest that just under 3,000 children have been separated from their parents.
A federal judge in San Diego issued a preliminary injunction in June that ordered the government to halt family separations and reunite children with their parents by two distinct dates, depending on their ages. However, the Trump administration balked at the deadlines, claiming they were "artificial" and "not informed by the process needed to vet parents, including confirming parentage, as well as determining the suitability of placement with that parent," according to the Hill.
By the time the deadline for reuniting children under five with their parents arrived on Tuesday — the same day RAICES made its announcement — the Trump administration had only been able to reunite over 50, or about half, of the immigrant infants and toddlers the court had mandated it to reunite.
Cash bail has proved to be just one of dozens of major obstacles facing immigrants who are detained on U.S. soil.
Once detained, an undocumented person has long odds of even being offered bail in the first place under Trump, given the administration's more stringent policies on immigration. To make matters worse, in February, the Supreme Court ruled that immigrants facing deportation are not entitled to periodic bond hearings.
By actively posting bail for incarcerated mothers, legal aid groups like RAICES help to ensure that detainees don't spend an indeterminate amount of time — weeks, months or sometimes even years — waiting for their day in court. And once the mothers are released into the care of a friend, relative or sponsor while their cases are being adjudicated, it makes it easier to reunite them with their children who, as a result of the Flores decision, are not legally allowed to remain with their parents while they are in custody.