Protesters shut down NYC Amazon store over company selling surveillance equipment to ICE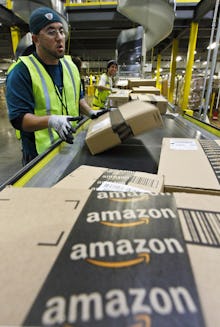 Immigration rights activists have found a fresh target in the fight against the Trump administration's deportation policies in a major U.S. business that is aiding U.S. Immigration and Customs Enforcement in carrying out deportations.
On Tuesday, members of the immigrant rights group Movimiento Cosecha shut down an Amazon store in midtown Manhattan to protest the company's policy of selling surveillance equipment to ICE.
"As customers, we demand that the cut ties with ICE," said Cata Santiago, an organizer with Cosecha who is also a recipient of the Deferred Action for Childhood Arrivals program. "We're for taking down those pillars of support that criminalize, detain and ultimately deport our community."
Santiago and other Cosecha activists blocked the entrance to the Amazon store, forcing employees to close the facility and shut off the lights. Vera Parra, an organizer with Cosecha, said there were no arrests made at the demonstration.
In May, the American Civil Liberties Union first called attention to the fact that Amazon was marketing facial recognition technology to U.S. law enforcement agencies like ICE. Over 150,000 Amazon employees responded by signing a letter to company leadership asking them not to market the technology to law enforcement.
"It is a moment will corporations will show their true colors," Santiago said. "We are following the lead of Amazon's employees who sent out a letter asking the company to not be complicit in this. They have the option of either choosing to stand on the side of immigrants, or choosing to stand on the side of the deportation machine."
Cosecha, an immigrant rights group, focuses on using the economic power of immigrants as workers and consumers to force changes in the treatment of American immigrants. Tuesday's protest comes in the wake of growing outrage over the Trump administration's failure to meet a court mandated deadline to reunite immigrant families separated at the U.S. border.
On Monday, a California court denied the administration's attempt to amend their family separation policy by holding families together indefinitely in immigrant detention. The administration is expected to appeal the decision.
Meanwhile, citizens and activists have increased pressure on companies like Amazon to stop complying with the administration's separation policies, and continue to build support for dismantling America's deportation machine altogether.