Mic Daily: Brett Kavanaugh's mysterious stance on 'Roe v. Wade' and more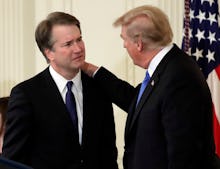 Welcome to Mic Daily: Mic's email newsletter that cuts through the noise and lands in your inbox every weekday. We carefully curate each edition to send you a cross section of our most vital stories of the day. Want to receive this as a daily email in your inbox? Subscribe here.
Before we kick off today's Mic Daily, a special announcement: Mic's new, correspondent-led newsmagazine show, Mic Dispatch, will be premiering next Tuesday, July 17! Twice a week, our news team will bring you exclusive reporting on this momentous cultural era the way we see it: complicated, diverse and full of potential. Subscribe here for alerts on new episodes and tune in Tuesdays or Thursdays on Facebook Watch here.
All right, back to our regularly scheduled programming.
As debate swirls now that President Donald Trump nominated Brett Kavanaugh to the Supreme Court, one fact is clear ahead of the judge's Senate confirmation hearings: He has never publicly stated his personal opinion on Roe v. Wade, the landmark privacy case that gave people the right to an abortion in the United States.
After receiving a record-setting influx of cash from citizens concerned about the horror of family separation along the border in June, the Refugee and Immigrant Center for Education and Legal Services is ready to put its money where its mouth is.
As the famous saying goes: To understand someone, try walking a mile in their shoes.
That turned out to be a key takeaway for researchers at the University of Barcelona, who asked 15 male study participants age 30 and under to put on a virtual reality headset that gave them the body of Albert Einstein. Researchers wanted to see if looking like Einstein — an icon for genius — made people "unlock previously inaccessible mental resources."
Immigration rights activists have found a fresh target in the fight against the Trump administration's deportation policies in a major U.S. business that is aiding U.S. Immigration and Customs Enforcement in carrying out deportations.