Hype Daily: 'Handmaid's Tale' wines, Sarah Palin duped by Sacha Baron Cohen and more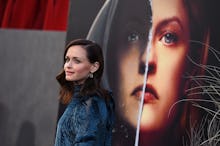 Before we kick off today's Hype Daily, a special announcement: Mic's new, correspondent-led newsmagazine show, Mic Dispatch, will be premiering next Tuesday, July 17! Twice a week, our news team will bring you exclusive reporting on this momentous cultural era the way we see it: complicated, diverse and full of potential. Subscribe here for alerts on new episodes and tune-in Tuesdays or Thursdays on Facebook Watch here.
And now, on to Hype Daily, Mic's morning entertainment roundup. Here's everything you need to catch up on in the entertainment world and what to look forward to today. Want to receive this as a daily email in your inbox? Subscribe here.
Good morning from Hype reporter Anna Swartz.
Handmaid's Tale wines are ... no longer happening
Welp, everyone realized this was a terrible idea pretty quickly: On Tuesday, People reported that MGM and wine seller Lot18 were teaming up for a line of Handmaid's Tale-themed wines. You know, wines to go along with the dystopian show about women's subjugation.
The plan was to release "two reds in tribute to Elisabeth Moss and Alexis Bledel's characters, Offred and Ofglen, and a white wine for Yvonne Strahovski's Serena Joy," according to People, but the backlash was so swift and so strong that by Tuesday evening, People had updated its original story with the news that MGM and Lot18 had wisely decided to scrap the plan and canceled the themed wines altogether.
Sarah Palin says Sacha Baron Cohen tricked her into an interview
We've already discussed comedian Sacha Baron Cohen's upcoming, apparently somehow Trump-focused Showtime series. Well, it turns out that Sarah Palin might make an appearance in the new show. In a Facebook post on Tuesday, the former Alaska governor and vice presidential candidate wrote, "Yup — we were duped. Ya' got me, Sacha. Feel better now? I join a long list of American public personalities who have fallen victim to the evil, exploitive, sick 'humor' of the British 'comedian' Sacha Baron Cohen, enabled and sponsored by CBS/Showtime."
According to Palin's post, she believed she was participating in a "'legit opportunity' to honor American vets and contribute to a 'legit Showtime historical documentary.'" Palin said she walked out of the interview after she'd had enough of "Hollywoodism's disrespect and sarcasm." Knowing Cohen, that will definitely make it into the show.
The next Indiana Jones is delayed again
Sorry to all the Indy fans out there, but the planned fifth installment of the Indiana Jones franchise, originally scheduled for a 2019 release date, has been pushed back, the Associated Press reported on Tuesday. Now the film isn't scheduled to come out until "at least 2021." Wow, that's a long time away! Harrison Ford is slated to return as Jones and Steven Spielberg will direct. No word on whether Shia LaBeouf will be back.
Everyone is freaking out about the new Sabrina poster
The new poster for the upcoming Netflix series Chilling Adventures of Sabrina is out and it looks dang good. The show's executive producer, Roberto Aguirre-Sacasa, tweeted out the poster on Tuesday along with the message, "Here we go! So exciting ..." There's still no premiere date set for the series, which will star Mad Men's Kiernan Shipka in a dark, horror-inspired adaptation, based on a new comic about the classic teenage witch.
Put this on your radar: Eighth Grade
The indie comedy Eighth Grade hits theaters on Friday. Written and directed by comedian Bo Burnham, the movie stars newcomer Elsie Fisher as a regular suburban girl trying to survive the end of middle school and her last days of eighth grade. It's currently got a 98% on Rotten Tomatoes and Vulture called it "a haunting portrait of adolescence." Fun!
In a recent interview with Mic, Fisher said that she and her character from Eighth Grade share a lot of similarities. "After filming and reading the script, I'm like, 'Oh, everyone feels weird and quiet and bleh,'" Fisher said.