Today in Trump's America: Trump castigates US allies at NATO summit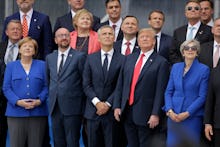 Welcome to Mic's daily read on Donald Trump's America. Want to receive this as a daily email in your inbox? Subscribe here.
Good morning from Emily Singer at Mic.
Here's what's happening in Trump's America:
• Trump is in Brussels for a NATO summit.
About this morning: Trump kicks off NATO by verbally attacking a U.S. ally
Trump is in Brussels for the NATO summit this week.
And while expectations were already low for how the group of world leaders in the military alliance would get along, Trump pushed them even lower Wednesday morning by kicking off his day with a public castigation of Germany — one of the U.S.'s best allies in Europe.
"Germany is totally controlled by Russia," Trump said during breakfast with NATO Secretary General Jens Stoltenberg, an apparent reference to Germany signing a deal for a gas pipeline between Russia and Germany.
Trump said the U.S. pays money to defend Germany from Russia, but then "Germany goes out and pays billions and billions of dollars a year to Russia."
To understand how wild it is for Trump to publicly criticize a NATO ally, all you have to do is look at the facial expressions of the White House aides seated alongside him. Chief of Staff John Kelly — a NATO supporter — looks away, and former Sen. Kay Bailey Hutchison (R-Texas), the current U.S. representative to NATO, looks to the sky as Trump then criticized other NATO countries for not contributing enough to NATO. There are no dues in NATO, and individual countries do not owe a particular amount.
Stoltenberg razzed Trump after the meeting.
"We had excellent orange juice and toast. We had a good breakfast. Paid by the U.S.," Stoltenberg said, according to the Wall Street Journal's Valentina Pop.
The breakfast will make a pull-aside meeting Trump is scheduled to have with German Chancellor Angela Merkel later Wednesday one to watch. No media will be allowed at the meeting, and reporters will only be given a readout of what the leaders discuss. And even if the official readout is short on details, the actual content of the conversation will leak out if the past is any indicator.
Today in Trump's America: Senate Republicans push for Kavanaugh confirmation
As Trump creates chaos in Europe, Senate Republicans will spend their day continuing their push to confirm Trump's Supreme Court nominee Brett Kavanaugh.
Republicans have been criticizing Democrats for refusing to consider Kavanaugh's nomination. However, their attacks are completely hypocritical, given how the GOP treated former President Barack Obama's Supreme Court nominees.
"Seems strange that every time a Supreme Court nominee comes from the Republicans, there's every reason in the world not to confirm that nominee in the eyes of the current Democrats," Sen. Orrin Hatch (R-Utah) said Tuesday in a speech on the Senate floor. Hatch, for his part, voted against Obama's Supreme Court nominees — Elena Kagan and Sonia Sotomayor — and said Obama's third nominee, Merrick Garland, shouldn't get a hearing.
And Senate Majority Leader Mitch McConnell said in a speech on the Senate floor Tuesday that Democrats "seem to be confusing the nature of a political office with the nature of a judicial office" and "sound eager to try and turn judicial confirmations into something like political elections."
However, McConnell was the orchestrator of the strategy to deny Garland a hearing and has bragged about how he's proud of that norm-breaking maneuver.
Capitol Hill happenings: As Trump bashes NATO, the Senate votes on resolution supporting the organization
As Trump sows discord with NATO countries, the Senate voted Tuesday on a resolution voicing support for the military alliance.
The resolution, which was proposed by Sen. Jack Reed (D-R.I), passed by a vote of 97 to 2, with GOP Sens. Rand Paul of Kentucky and Mike Lee of Utah the only members voting against it.
"Today, in a 97-2 vote, the Senate sent an overwhelming message to President Trump to stand by our NATO allies and to stand against President Putin," Senate Minority Leader Chuck Schumer tweeted Tuesday night. "Democrats & Republicans in Congress just agreed that continued United States leadership in NATO is critical to the national security of our country."
And the rest…
Family separations: The Trump administration missed a court-imposed deadline to reunite young children that had been forcibly separated from their parents. So far, just four children under the age of five have been reunited with their parents, according to BuzzFeed News' Zoe Tillman. And according to a court filing, the government may have separated a child from a parent who was actually a U.S. citizen.