Jerry O'Connell fights back against reports 'Real Men Watch Bravo' will be macho and exclusionary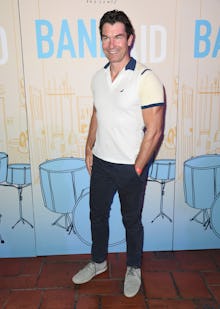 Monday, Bravo announced actor Jerry O'Connell was getting his very own talk show called — wait for it — Real Men Watch Bravo.
Ugh.
The pitch, essentially, is that O'Connell, a real man, likes Bravo — a network typically thought of as popular with women and gay men. And folks, he doesn't care who knows it.
According to Bravo's announcement, "Each episode will be helmed by Jerry, who will be joined by a panel of male celebrities, comics and tastemakers to chat about all the buzziest moments on Bravo and other hot topics in pop culture offering up unprecedented access to what guys are really thinking and loving when it comes to all things Bravo and entertainment."
The backlash to the announcement was pretty swift, with critics noting the show seemed low-key resentful of the fact that Bravo's core audience doesn't include heterosexual men. The publication Into noted the show inherently seems to imply "that the men who currently watch Bravo are … not real men?"
The most generous read of this show's concept, of course, is that Real Men Watch Bravo attempts to challenge the notion that straight guys are less valid if they watch reality TV. But, like, it's 2018, and this is literally the TV show equivalent of one of those "Real men wear pink" shirts. For many, this show's title feels like a reinforcement of toxic masculinity rather than a rebuke of it, as though Bravo is empowering men to say, "Yeah, I watch Bravo, but I'm not some fag."
Furthermore, publications like HuffPost ("It's No Girls (Or Women) Allowed On Bravo's New Late-Night Show,") and the Guardian ( "Real Men Watch Bravo: New late-night show promises no female guests") characterized the show as a boys-only zone, reporting that Real Men Watch Bravo would exclude women entirely. It's not hard to see where that conclusion came from. After all, Bravo's own announcement only mentions that O'Connell will be joined by "male celebrities, comics and tastemakers."
But Tuesday night, O'Connell himself began fighting back against those reports. O'Connell tweeted out both HuffPost's and the Guardian's aforementioned articles, saying he'll be "BEGGING" women to join him, namedropping several Bravo personalities, like NeNe Leakes and "Countess" Luann de Lesseps.
"Not true @HuffPost," O'Connell said, in reference to its headline. "We will be BEGGING Ramona, NeNe, Shereé, Vivki, Shannon, Tamra, Luann, Sonja, Romona, Tinsley, Ramona and yes, AVIVA to be on our show. @Bravotv @Andy"
"BS," he said, in response to the Guardian. "Can't believe I am saying this but FAKE NEWS @Andy @Bravotv"
Whether Bravo's initial announcement was misleading or O'Connell is simply trying to win back some goodwill amid the backlash is unclear. But one thing remains very clear: Real Men Watch Bravo is a terrible, awful title for a TV show.