Trump's UK visit will spark massive protests that have been years in the making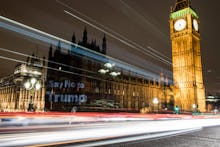 President Donald Trump will make his first visit to the United Kingdom as president Thursday, where he's expected to be met by protests across the country.
United Kingdom police are planning the country's biggest mobilization of officers since 2011 for the widespread demonstrations. The centerpiece of the anti-Trump protests will be a London march Friday that's set to draw 50,000 attendees. Anti-Trump demonstrators will also fly a 19-foot-tall balloon depicting Trump as a giant orange baby near the British Parliament building in Westminster.
With Trump's itinerary set to largely avoid London, British protesters are also prepared to greet Trump as he travels around Southeast England and Scotland. Demonstrations will take place Thursday near Blenheim Palace in Oxfordshire, where Trump is expected to have dinner, and Regent's Park in London, where Trump is slated to spend the night at the U.S. ambassador's residence.
The London protest Friday will be accompanied by a protest near Chequers, where Trump is expected to meet with Prime Minister Theresa May. Trump will then head to Scotland, whose residents are preparing a Friday night protest in Glasgow and a Saturday "carnival of resistance" in Edinburgh. According to the Guardian, the Edinburgh protest will include such games as "toss the welly at Trump," "Trump's head coconut shy" (in which individuals throw balls at stacks of coconuts made to look like Trump), and "mini golf."
"Donald Trump is an open racist and sexist, a volatile and dangerous character who seems set on taking the West into further wars," Maz Saleem of the U.K. grassroots coalition Stand Up to Trump said in a statement announcing Friday's London protest. "Together we will put on a massive united show of opposition to him if Theresa May goes ahead with plans for a visit."
In addition to the protests, the British city of Sheffield has announced it will ban Trump from visiting the city, followed by a similar declaration by the London borough of Greenwich in December.
This mass mobilization of anti-Trump British people has been years in the making. Though Trump has his fans across the pond, many U.K. residents have been opposed to Trump coming to their shores since before the 2016 election — and since his inauguration, the U.S.' "special relationship" with the U.K. has largely been marked by controversy over Trump's divisive remarks.
U.K. opposition to Trump's visit started before his inauguration — and it's only intensified since
The U.K. has been signaling its discontent with Trump since far before he took office. In 2012, Trump visited Edinburgh to decry the Scottish Parliament's push for wind power, which resulted in a "near riot" from competing protesters as Trump walked the city's streets, the Guardian reported. A subsequent trip to Scotland in June 2016 to open a new golf resort yielded a rash of protests, including a mariachi band made up of local Mexicans living in the area.
If some British people had their way, Trump's 2016 visit wouldn't have happened in the first place. Over 500,000 U.K. residents signed a petition calling for Trump to be banned from the country in late 2015, claiming the then-candidate's rhetoric violated the country's hate speech laws. Though the British Parliament had no power to actually bar Trump — the move could only be undertaken by May, who was home secretary at the time — the House of Commons debated Trump's ban, with many decrying his comments about Muslims.
"He is free to be a fool. He is not free to be a dangerous fool on our shores," lawmaker Jack Dromey said during the debate.
When Trump assumed the presidency, nearly 100,000 protesters took part in the London Women's March in January 2017 that expressed support for women while decrying Trump's presidency.
Despite this opposition, May invited the president for an official state visit in the same month — which only inflamed his opposition. A petition calling to block Trump's U.K. trip earned over 1 million signatures, along with another largely symbolic Parliament debate. Protesters also took to the streets in January and February 2017 to oppose Trump in protests against the president's "travel ban" and potential state visit, with 7,000 protesters rallying outside Parliament as the House of Commons debated Trump's travel to the U.K.
Nevertheless, Trump's state visit plans continued, complete with suggestions of a gold-plated carriage ride and a giant rally with performances by National Football League cheerleaders. In June 2017, however, reports alleged that Trump had decided to postpone his trip until he had the support of the British public.
That support, of course, has only continued to wither. Trump sparked outrage in the U.K. in November after retweeting anti-Muslim propaganda videos from U.K. far-right party Britain First; May said it was "wrong" for the president to tweet the videos — sparking a defensive Trump tweet — while London Mayor Sadiq Khan said the videos made it "increasingly clear that any official visit at all from President Trump to Britain would not be welcomed."
The House of Commons also discussed Trump yet again over the retweets, with members of Parliament decrying Trump as a "fascist," "stupid" and "racist, incompetent or unthinking — or all three."
Plans for Trump to visit were once again stymied in January; the president announced he would not attend the opening of the new U.S. embassy in London as planned, calling the embassy's move a "bad deal" on Twitter.
Khan used the tweet to once again hit back at Trump's visit, saying that his postponement suggested Trump "got the message" that he wasn't welcome in the U.K.
"This just reinforces what a mistake it was for Theresa May to rush and extend an invitation of a state visit in the first place," Khan said in a statement.
News that Trump would finally make his July trip to the U.K. was announced in April, though the president's "working trip" will be a far cry from the lavish state visit that May initially proposed.
Trump has fed the U.K.'s opposition with repeated verbal attacks
Throughout his presidency, Trump hasn't attempted to curry favor with the British — instead, he's stoked their opposition with repeated comments criticizing the key U.S. ally.
Several terrorist attacks have taken place in the U.K. during Trump's presidency, and the president has used these opportunities to consistently decry the U.K.'s leadership and so-called "radical Islamic terrorism." A September 2017 attack on the London Underground led Trump to praise his travel ban and tweet that "loser terrorists must be dealt with in a much tougher manner." Following the June 2017 attack near London Bridge, Trump attacked Khan on Twitter for saying that Londoners had "no reason to be alarmed" about an increased police presence, sparking a feud that led Khan to call for Trump's U.K. visit to be canceled.
Trump has also deflected from the ongoing rash of mass shootings in the U.S. by pointing out crime in the U.K. The president attempted to equate a reported 13% rise in crime in the U.K. with the "spread of radical Islamic terror" in October 2017, despite the cited report barely mentioning terrorism. In May, Trump claimed at an NRA rally that a London hospital was comparable to a "war zone" due to knife crime in London, sparking sharp rebukes from both bemused Londoners and medical professionals.
The president also decried the U.K.'s National Health Service as "going broke and not working" on Twitter in February, which British legislators and citizens hit back against with strong defenses for the state-funded health care agency.
Despite the president's impending trip to the U.K., there are still no signs that his criticism will be letting up. When speaking to reporters as he left for his European trip Tuesday, Trump couldn't help but refer to the current political controversies in the U.K., which has seen two high-level officials step down in recent days amid the ongoing Brexit debate.
"It is going to be an interesting time in the U.K. and an interesting time at NATO," Trump told reporters. "So I have NATO, I have the U.K. — that's a situation with turmoil."