Female veterans are raking in major cash for their congressional bids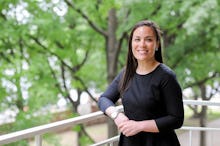 As of a few weeks ago, female veterans already began looking like they may be key to Democrats' chances at winning control of the House in the midterm elections in the fall.
Now, numbers are rolling in regarding these female veterans' fundraising hauls from April to June, and their status as top candidates who could propel Democrats to victory in November is growing even clearer.
Three of the six top female democrats running for the House have now reported their fundraising totals for the second quarter of 2018, which runs from April 1 through June 30. Their totals are all above $750,000 — massive hauls for House candidates, which are a signal of both broad support and the capability to run professional campaigns.
Gina Ortiz Jones, an out gay Air Force veteran running in Texas' ultracompetitive 23rd District, raised more than $1.2 million in the second quarter. This is a massive amount of money that is often seen from statewide Senate candidates, not House contenders.
Meanwhile, Elaine Luria, a Navy vet running in Virginia's 2nd District — home to a massive Naval base in Norfolk — raked in $930,000 in the second quarter of 2018.
According to Luria's campaign, the fundraising haul was almost exclusively from small donations averaging $15, not from wealthy donors contributing the maximum amount under campaign finance laws. The small donations are a sign of grassroots support for her bid.
"Elaine is living her values by rejecting contributions from corporate PACs and making it clear that her grassroots campaign has the momentum to take on Scott Taylor and win in November," Luria's campaign manager, Kathryn Sorenson, said in a news release.
M.J. Hegar, a retired Air Force helicopter pilot who won a Purple Heart for her service, raised more than $750,000 in the second quarter, propelled by a viral campaign video about her service that has more than 2.5 million views.
The other three top veteran candidates have yet to announce their fundraising hauls. All candidates have until July 15 to report their numbers to the Federal Election Commission.
However, the three other female veterans in top races who have yet to report their numbers — Mikie Sherrill in New Jersey, Chrissy Houlahan in Pennsylvania and Amy McGrath in Kentucky — have posted big fundraising hauls in the past.
As of the last reporting period, Houlahan had raised nearly $1.9 million for her bid, Sherrill raised $2.6 million and McGrath had raised nearly $1.9 million, according to documents filed with the FEC.