The "blended burger" could replace the classic American hamburger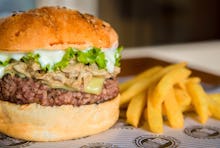 On Tuesday, meal kit delivery service Blue Apron announced the debut of its blended burger, a recipe that combines ground beef and cremini mushrooms into a single patty. If the hamburger is the quintessential American meal, the blended burger is its new-age cousin who glares at you when you use a plastic straw. The blended burger is still a burger, and it's still made of meat, but it's more considerate. Blue Apron's blended burger is one way that brands are satisfying a growing consumer desire for more healthful, environmentally-conscious food options.
Similar to the trendy Impossible Burger, a meatless burger alternative marketed to those looking to cut back their beef consumption, the blended burger is crafted to appeal to established meat lovers who want to eat less meat.
The mushroom blend idea first officially emerged in 2011 (surely home cooks have put mushrooms in their meat patties prior), when the Mushroom Council collaborated with the Culinary Institute of America to devise a healthy menu item. The James Beard Foundation now also partners with the council and has been holding the annual Blended Burger Project since 2014, challenging chefs to create a blended burger made with at least 25% mushrooms. The project's purpose is to encourage "chefs to create a healthier, more sustainable, and tastier burger that can be enjoyed by consumers across the country," according to its website.
Public schools, colleges, restaurants and workplace cafeterias have embraced the blend for a variety of reasons.
Blended burgers have fewer calories and less fat
At Sonic, the first quick-service restaurant to offer the item, the blended burger is positioned as a more health-conscious menu item. The drive-in's newly launched Signature Slinger is marketed as a guilt-free option for consumers who want a burger that's under 350 calories. Signature Slingers are made with three ingredients: beef, mushrooms and seasoning. The patty is 75% beef and 25% mushrooms, Scott Uehlein, Sonic's vice president of product innovation and development, told Nation's Restaurant News.
As a rule, a blended burger will contain fewer calories, grams of fat and carbs compared to its full-beef counterpart. In 2016, the Mushroom Council estimated that more than 15% of K-12 public schools served blended burgers — traditionally blended at a 30% mushroom, 70% meat ratio — to meet the nutritional requirements on fat and sodium in school meals set by the United State's Department of Agriculture. In higher education, universities including Yale, Harvard, UMass Amherst and USC incorporate the blended method into foods like burgers, taco fillings and chilies.
Mushrooms provide better flavor
If you love burgers, you'll be obsessed with blended burgers. At least, these were the findings of a study in which 147 adults were given eight samples of taco blends with a varying percentage of meat and mushrooms. Samples included 100% beef, 50% beef and 20% beef with mushrooms filling the remainder. The majority of participants chose the sample with half beef, half mushrooms as their favorite, NPR reported. (It's worth noting that the study was funded by the Mushroom Council).
How could this be? Mushrooms are little flavor powerhouses. They're meaty, as far as vegetables go, and add umami flavor to meat. "Their natural umami flavor combines really well with meat," said Eric Davis, spokesperson for the Mushroom Council, in an email. "When combined with meat, mushrooms enhance the flavor, they don't take anything away or significantly change the flavor." Mushrooms' umami flavor allow the vegetables to maintain flavor while reducing sodium by 25% (in a 50% mushroom burger), Davis added.
On the ratio: A 25/75 mushroom meat ratio is ideal for burgers while a higher ratio of mushrooms to meat is great for tacos, Bolognese and chili, Davis said.
Not a mushroom fan? Davis said the blended burger is still worth trying: "We have been told by many people who don't like mushrooms that they love the blended burger."
It's a more sustainable — but not vegetarian — burger
Some animal lovers and environmentalists may be dedicated to their causes but still reluctant to do away with meat entirely. In this case, the blended burger might relieve a guilty conscience. "The blended burger is about addition, not elimination," Davis said. "We believe there is room for all of your favorite foods in a healthy eating plan, and the blend technique is a way to make a small change that can greatly affect your health and the health of the planet."
As for its impact, mushrooms are one of the most sustainably produced foods in the U.S., according to Davis. To produce a pound of mushrooms, just 1.8 gallons of water is required. By comparison, more than 1,800 gallons of water are needed to produce a pound of ground beef.
The concept of the blended burger is simple, Kris Moon, chief operating officer James Beard Foundation, said in an email. As more chefs participate in James Beard's Blended Burger Project and experiment on their own, the culinary community will have a growing influence on creating a sustainable food system. The shroom-studded burger alone "has huge potential for changing the way Americans enjoy the quintessential burger," Moon said.