Who's Sorry This Week? Henry Cavill, Papa John and other public apologies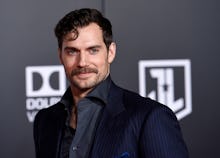 Another week, another deluge of apologies.
In Who's Sorry This Week? Mic tracks down the most prominent mea culpas from celebrities, companies and other public entities trying to make amends for their various screwups.
This week had no shortage of apologies, so let's get right to it.
Papa John's founder John Schnatter is sorry he used a racial slur on a conference call training him to avoid public relations snafus
Papa John himself, John Schnatter, has found himself in hot water yet again.
Wednesday, Schnatter admitted to using a racial slur during a conference call in May with a marketing agency. At the time, he was ruminating on his previous PR disaster in November, when he made insensitive remarks about protests by NFL players during the national anthem.
"Colonel Sanders called blacks 'n*ggers'" and never faced a backlash, Schnatter said during the call, according to Forbes.
The call was reportedly a role-playing exercise meant to help Schnatter avoid public relations snafus in the future. But, um — yeah.
In a statement to Forbes, Schnatter apologized for the remarks.
"News reports attributing the use of inappropriate and hurtful language to me during a media training session regarding race are true," Schnatter said. "Regardless of the context, I apologize. Simply stated, racism has no place in our society."
Schnatter resigned as chairman of Papa John's on Wednesday.
Henry Cavill is sorry he said the #MeToo movement was bad because it meant he wasn't allowed to flirt without being called a rapist
In a recent interview with GQ Australia, Man of Steel actor Henry Cavill wildly mischaracterized the #MeToo movement, saying it meant he was no longer allowed to flirt with women without risking accusations of being "a rapist."
Cavill acknowledged the #MeToo movement was important, but lamented the fact that he might not be able to woo and chase a woman anymore.
"It's very difficult to do that if there are certain rules in place," Cavill told GQ. "Because then it's like: 'Well, I don't want to go up and talk to [a woman], because I'm going to be called a rapist or something.' So you're like, 'Forget it, I'm going to call an ex-girlfriend instead, and then just go back to a relationship, which never really worked.' But it's way safer than casting myself into the fires of hell, because I'm someone in the public eye, and if I go and flirt with someone, then who knows what's going to happen?"
According to GQ, the conversation hung "in the air more than a little."
Thursday evening, after widespread criticism of Cavill's remarks circulated social media, the actor apologized in a statement to the Hollywood Reporter, saying he "wholeheartedly supports" the #MeToo movement.
"Insensitivity was absolutely not my intention," he said, according to the Hollywood Reporter. "In light of this, I would just like to clarify and confirm to all that I have always and will continue to hold women in the highest regard, no matter the type of relationship, whether it be friendship, professional or a significant other."
The second half of the actor's statement appears to dig at GQ itself.
"Never would I intend to disrespect in any way, shape or form. This experience has taught me a valuable lesson as to the context and the nuance of editorial liberties. I look forward to clarifying my position in the future toward a subject that is so vitally important and in which I wholeheartedly support."
The woman behind the viral #PlaneBae saga, who filmed strangers flirting on an airplane for several hours, is sorry she violated their privacy
In early July, a woman named Rosey Blair documented what appeared to be a blossoming romance between two strangers sitting in front of her on an airplane. She posted short videos of them, peeping through the gaps in the seats as their arms brushed each other, then turning the camera on herself and her significant other who watched with voyeuristic glee.
Blair reposted the series of videos on her Twitter, where thousands of people watched the whole saga unfold in real time. Eventually, the once-anonymous "hunk" in the #PlaneBae saga, Euan Holden, figured out he was being filmed, and leaned into his newfound viral fame by posting about it on Instagram.
Blair also attempted to use the thread for personal gain, advertising herself as "an actress, comedian and a writer" to her followers and inviting airlines to send her free plane tickets.
As this was happening, a number of people remarked how creepy it was for someone to film and exploit the lives of strangers as a way to gain viral fame. Blair never identified the anonymous woman Holden appeared to be flirting with, but hinted in one of her (now deleted) videos that people would be able to track her down through some internet sleuthing, like looking at Holden's Instagram activity. And they did.
Eventually, Holden's seatmate deleted her Twitter and Instagram accounts because she was on the receiving end of a whole lot of unwanted attention as a result of the #PlaneBae thread — including harassment and stalking.
Tuesday morning, Blair posted a lengthy apology on Twitter.
"When I made this and shared it, I was happy, joyful and overcome with authentic and sincere excitement," she said. "So much so that I could not see the potential exploitative nature of the outcome and my actions. The last thing I want to do is remove agency and autonomy from another woman. I wish I could communicate the shame I feel in having done this, but I truly feel that at this point my feelings are irrelevant. ... [To the woman I filmed,] ... I apologize for utilizing what could have been a beautiful charming moment among strangers as a tool to communicate a narrative I am fond of. I apologize for taking what should have been a small mundane moment of cheeriness and turning it into something foul and over-amplified."
Friday morning, the woman Blair filmed released a statement to Business Insider through a lawyer, saying she has been "doxxed, shamed, insulted and harassed" as a result of Blair's viral thread.
"I did not ask for and do not seek attention," she said. "#PlaneBae is not a romance - it is a digital-age cautionary tale about privacy, identity, ethics and consent. Please continue to respect my privacy, and my desire to remain anonymous."
Keyshia Cole is "kinda" sorry she lied to her Instagram followers about being pregnant
R&B singer Keyshia Cole recently posted a picture on Instagram captioned with the hashtags, "#PreggoInMyFashionNovaFit" and "#CongratulationsAreInOrder." This, of course, led fans to believe she was pregnant, according to Yahoo Lifestyle.
The next day, the 36-year-old published a follow-up, saying she wasn't actually pregnant, and that the post was meant to address body-shaming comments she receives about her weight.
"I KINDA APOLOGIZE for #TROLLING yesterday, telling y'all I was ##Preggo !!!!," she said. "Buuuuuuut y'all need to stop body shamming me and sayin I'm PREGNANT EVERY OTHER DAY !!!! Like seriously, it hurts my feelings."