Mic Daily: Trump upends NATO summit, a new study on the gender wage gap and more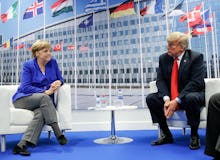 Welcome to Mic Daily: Mic's email newsletter that cuts through the noise and lands in your inbox every weekday. We carefully curate each edition to send you a cross section of our most vital stories of the day. Want to receive this as a daily email in your inbox? Subscribe here.
President Donald Trump's behavior led to a tense and awkward summit between leaders of NATO member countries, as he criticized top U.S. allies like Germany and issued an out-of-the-blue demand that other NATO countries further increase their military spending.
Just 13 days after Whole Woman's Health Alliance announced a lawsuit alleging a series of Texas laws impede women's access to safe and legal abortion, Supreme Court Justice Anthony Kennedy announced his retirement.
And now that Trump has nominated U.S. Circuit Court Judge Brett Kavanaugh as Kennedy's replacement, Whole Woman's Health Alliance is meditating on what effects that change could have on its case.
As of a few weeks ago, female veterans already began looking like they may be key to Democrats' chances at winning control of the House in the midterm elections in the fall.
Now, numbers are rolling in regarding these female veterans' fundraising hauls from April to June, and their status as top candidates who could propel Democrats to victory in November is growing even clearer.
When discussing the wage gap, it's tempting to try to explain away the dramatic discrepancy. Some common theories: It's because women take lower-paying jobs. It's because all women are nurses or teachers (or something). It's because women don't negotiate well. It's because women don't ask for more money.
None of these are particularly good arguments against the wage gap, but we now have further proof that the last point simply isn't true.
Bravo announced on Monday actor Jerry O'Connell was getting his own talk show called — wait for it — Real Men Watch Bravo.
Ugh.
The pitch, essentially, is that O'Connell, a real man, likes Bravo — a network typically thought of as popular with women and gay men. And folks, he doesn't care who knows it.
Don't forget: Mic Dispatch premieres soon on Facebook Watch
Mic's new, correspondent-led newsmagazine show, Mic Dispatch, premieres Tuesday. Twice a week, our news team will bring you exclusive reporting on this momentous cultural era the way we see it: complicated, diverse and full of potential. Subscribe here for alerts on new episodes and tune in Tuesdays or Thursdays on Facebook Watch here.