Hype Daily: Two Thai cave rescue movies, Cardi B's baby and more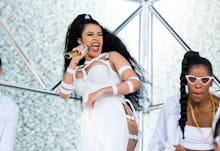 Don't forget! Mic's new, correspondent-led newsmagazine show, Mic Dispatch, will be premiering next Tuesday, July 17! Twice a week, our news team will bring you exclusive reporting on this momentous cultural era the way we see it: complicated, diverse and full of potential. Subscribe here for alerts on new episodes and tune-in Tuesdays or Thursdays on Facebook Watch here.
And now, on to Hype Daily, Mic's morning entertainment roundup. Here's everything you need to catch up on in the entertainment world and what to look forward to today. Want to receive this as a daily email in your inbox? Subscribe here.
Good morning from Hype reporter Anna Swartz.
There are two competing films about the Thai cave rescue?
The 12 Thai boys and their soccer coach who were trapped in a flooded cave for weeks are still recovering from their dramatic rescue — but there are somehow already two planned films about the ordeal. On Tuesday, news came out that the Christian production company Pure Flix Entertainment planned to make a movie chronicling the rescue. Pure Flix CEO Michael Scott (yes, that's really his name) told the Hollywood Reporter, "The bravery and heroism I've witnessed is incredibly inspiring, so, yes, this will be a movie for us."
On Wednesday, Crazy Rich Asians director John M. Chu tweeted, "I refuse to let Hollywood #WhitewashOut the Thai Cave rescue story! No way. Not on our watch. That won't happen or we'll give them hell. There's a beautiful story abt human beings saving other human beings. So anyone thinking abt the story better approach it right & respectfully."
Apparently Chu decided he might be the right person for the job — Variety reported on Wednesday afternoon that Chu is now planning his own version of a film about the rescue.
Cardi B had her baby!
Rapper Cardi B, aka Belcalis Almanzar, and her husband Offset, aka Kiari Kendrell Cephus, welcomed their new baby this week. Their daughter, Kulture Kiari Cephus, was born Tuesday, Cardi announced in an Instagram post on Wednesday. A lot of people on Twitter had thoughts about the name choice — both good and bad, but, as Cardi B put it in a tweet on Wednesday night, "Kulture ... anything else woulda been basic Okrrrrr."
Some scammer is pretending to be big Hollywood execs
Here's an odd Hollywood story for you: On Wednesday, the Hollywood Reporter reported that, "for more than a year," a scammer has been impersonating powerful female executives in order to con people out of thousands of dollars. The scammer — or scammers — has pretended to be people like former co-chair of Sony Amy Pascal, Lucasfilm's Kathleen Kennedy, 20th Century Fox CEO Stacey Snider, producer Gigi Pritzker and other high-powered women.
The grift involves posing as these power players, asking unsuspecting creatives, consultants and artists to travel to Indonesia for various projects and then scamming them out of money "to help cover" various travel expenses. According to private investigators working on tracking down the scammers, victims are losing an average of between $5,000 and $7,000, but some have lost significantly more. The scammer is apparently still at it, even as the private investigators and law enforcement work to track the perpetrator down. I wouldn't be surprised if someone buys the film rights to this story, too.
Henry Cavill doesn't get what #MeToo is about, apparently
The #MeToo movement has become a massive movement, empowering women — and all victims of sexual harassment and assault — to speak out against a culture that enables powerful abusers and silences their victims in Hollywood and beyond. Unfortunately, actor Henry Cavill thinks it's about trying to keep him from flirting? In an interview published this week, Cavill told GQ Australia that, while "Stuff has to change, absolutely," he's hesitant to give up "the good things," whatever that means.
"I think a woman should be wooed and chased, but maybe I'm old-fashioned for thinking that," Cavill said. "It's very difficult to do that if there are certain rules in place. Because then it's like: 'Well, I don't want to go up and talk to her, because I'm going to be called a rapist or something.' So you're like, 'Forget it, I'm going to call an ex-girlfriend instead, and then just go back to a relationship, which never really worked.' But it's way safer than casting myself into the fires of hell, because I'm someone in the public eye, and if I go and flirt with someone, then who knows what's going to happen?"
Hmm, OK, buddy.
Put this on your radar: Skyscraper
Dwayne "The Rock" Johnson's new movie Skyscraper hits theaters on Friday and here's what you need to know about it: It stars Dwayne "The Rock" Johnson and a very tall building. Without having seen the film yet, I'd guess there's lots of jumping, and running and saving people. And maybe some explosions. Want a cheesy summer blockbuster to see this weekend? What could be better than this?