Today in Trump's America: Trump shows little grasp of world issues at impromptu NATO news conference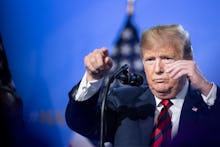 Welcome to Mic's daily read on Donald Trump's America. Want to receive this as a daily email in your inbox? Subscribe here.
Good morning from Emily Singer at Mic.
Here's what's happening in Trump's America:
• Trump ended his time in Brussels for the NATO summit on Thursday morning.
About this morning: Trump claims victory after NATO summit, though it's unclear what exactly he won
Trump threw the final day of the NATO summit in Brussels into chaos Thursday morning, when he appeared to threaten to pull the U.S. out of the military alliance if other NATO countries didn't commit to more military spending.
Trump then hosted an unscheduled news conference where he incorrectly described how NATO funding works, and claimed that NATO member countries agreed to spend 2% of their GDP on military spending — an agreement NATO leaders had already made back in 2014, though Trump claimed the leaders will now reach that goal at a "much faster clip."
"The United States wasn't being treated fairly, but now we are," Trump said, saying that he still has the power to pull the U.S. from NATO without congressional approval but that it's currently "unnecessary." (Trump does not have the power to pull the U.S. from NATO without congressional approval.)
Immediately after Trump's claim, French President Emmanuel Macron denied that Trump won any new commitments from NATO leaders.
Trump's news conference was wild.
Trump showed he had no grasp on a number of world issues, plugged his golf course in Scotland, bragged about his electoral win and cozied up to Russian President Vladimir Putin, whom he will meet with on Monday in Helsinki.
"He's been very nice to me the times I've met him," Trump said of Putin. "I've been nice to him. He's a competitor. Somebody was saying, 'Is he an enemy?' No, he's not my enemy. Is he a friend? No, I don't know him well enough. But the couple of times that I've gotten to meet him, we got along well."
Trump said he would bring up Russia's meddling in the U.S. election in his meeting with Putin, but didn't sound like he planned to issue any forceful condemnation of Russia's actions.
"He may deny it," Trump said. "All I can do is say 'Did you?' and 'Don't do it again.'"
Today in Trump's America: Trump's European trip continues in the U.K.
Trump is on his way to the U.K. for a three-day working trip to meet with British Prime Minister Theresa May, business leaders and even Queen Elizabeth II.
Trump's visit comes after May was hit with a spate of resignations from her cabinet thanks to Brexit negotiations. The president's visit is sparking massive protests from Brits, who overwhelmingly view Trump unfavorably.
Trump is largely avoiding London to try and dodge the demonstrations.
However, groups are planning to gather outside of the other areas Trump is going to as well, including Blenheim Palace in Oxfordshire, where Trump will attend a gala Thursday.
Capitol Hill happenings: Senate half-heartedly rebukes Trump on trade
The Senate on Wednesday passed a non-binding, symbolic resolution that said Congress should be able to review tariffs presidents say are based on national security threats.
The resolution passed by a margin of 88 to 11, with Sen. Jeff Flake (R-Ariz.) calling it the "first step to rein in the President's abuse of trade authority by using national security as justification to levy tariffs."
The motion, however, is completely toothless, and does not stop Trump from imposing tariffs and starting trade wars.
And the rest…
Fresh paint: Trump wants to repaint Air Force One to make it "look more American," Axios reported. The current Air Force One design is from the early 1960s, when President John F. Kennedy and first lady Jackie Kennedy chose the light blue color that currently adorns the plane.
Stormy Daniels arrested: Porn actress Stormy Daniels — who is at the center of legal troubles for Trump — was arrested at a strip club in Ohio Thursday morning and faces charges of illegally touching a patron, according to CNN.