FBI agent Peter Strzok to lawmakers: Anti-Trump texts didn't "impact any official action"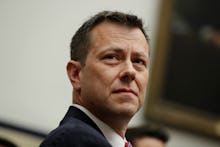 Former FBI agent Peter Strzok said Thursday that his text messages with another FBI official with whom he was having an affair did not factor into his work on the bureau's investigations into President Donald Trump's ties to Russia or into Hillary Clinton's handling of classified information.
Speaking to lawmakers in a public hearing on Thursday, the intelligence agent said his anti-Trump texts with Lisa Page — a former FBI lawyer with whom he was having an affair — were "blunt," but that "not once in my 26 years of defending my nation did my personal opinions impact any official action I took."
"I have the utmost respect for Congress's oversight role, but I truly believe that today's hearing is just another victory notch in Putin's belt and another milestone in our enemies' campaign to tear America apart," Strzok said in his opening remarks. "As someone who loves this country and cherishes its ideals, it is profoundly painful to watch and even worse to play a part in."
The controversial texts first came to light in December, when it was revealed that special counsel Robert Mueller dismissed Strzok from his team the previous summer upon learning of the messages.
The two agents disparaged Trump throughout 2016, describing him as an "idiot" and a "menace."
Trump and his allies have suggested the texts are proof of a so-called deep state conspiracy against him, and that the Mueller probe is a politically motivated "witch hunt."
But in his opening remarks on Thursday to members of the House judiciary and oversight committees, Strzok said there was "no evidence of bias in my professional actions" and defended Mueller's probe.
"This investigation is not politically motivated," Strzok said. "It is not a witch hunt. It is not a hoax."
Strzok testified before the House in a closed-door hearing in June, where Republicans railed against his credibility in claiming that his texts with Page were not evidence that he intended to block Trump from the presidency, as his critics have said an August 2016 message suggests.
"We'll stop it," Strzok texted Page in August 2016 — apparently referring to the prospect of Trump being elected president, according to a June report by the inspector general.
Page had been subpoenaed to appear on Capitol Hill on Thursday, but did not comply with the order because Congress hadn't given her "sufficient time to prepare." She will instead appear in a closed-door hearing on Friday, House Judiciary Committee Chairman Bob Goodlatte told Fox Business Network.
Trump — who mocks Page and Strzok as the "FBI lovers" — blasted Page's decision not to appear Thursday in a tweet, lamenting the "corruption on the other side" and again calling out Attorney General Jeff Sessions to do something about it.
Immediately, the hearing got off to a contentious start Thursday morning, with Republicans slamming Strzok and Democrats warning their colleagues not to interfere with Mueller's investigation.
"I urge our chairmen to change course, and to keep their promises to protect the integrity of the special counsel's investigation," Rep. Elijah Cummings (D-Md.) said in his opening statement.
But Republicans lambasted the embattled FBI agent, accusing him of "textbook bias" in his handling of the Clinton and Trump investigations.
"That is bias," Rep. Trey Gowdy (R-S.C.) said in a fiery opening statement. "Agent Strzok may not see it, but the rest of the country does."
Gowdy sparred with Strzok in a combative line of questioning that led to an extended argument between leaders of the committee. Strzok had told Gowdy he was unable to answer a question related to the Russia probe, saying he had been instructed not to comment on matters related to an ongoing investigation.
Rep. Bob Goodlatte (R-Va.), the chairman of the House Judiciary Committee, threatened Strzok with contempt, claiming he was under subpoena. Strzok replied that he was not under subpoena, but testifying voluntarily, and that he could not answer questions "related to the ongoing investigations being undertaken by the special counsel's office."
An argument then ensued between Goodlatte and Rep. Jerrold Nadler (D-N.Y.), the committee's ranking member, who contended that Gowdy was putting Strzok in an "impossible position." Goodlatte dismissed Nadler's objections and members of the committees joined in the bickering for several minutes before Gowdy continued his questioning — which drew further objection from other members of the House committees.
"We have indulged this harassment [for] nine minutes," Rep. Bonnie Watson Coleman (D-N.J.), a member of the House Oversight Committee, interjected at one point during Gowdy's questioning.
Gowdy pressed Strzok on the texts during the back-and-forth, at one point telling the FBI agent that it's "no wonder Bob Mueller kicked you off the investigation."
"If you were kicked off when he read the texts, shouldn't you have been kicked off when you wrote them?" Gowdy said.
"Not at all," Strzok said.
"I do not have bias," he continued, adding that he believed he was fired not because his personal opinions impacted his work, but because the texts gave the "perception" of bias.
In his most direct defense of the controversial texts, Strzok said he had written them "off-the-cuff" and that it was important to view them in the context of the heated election in 2016, during which Trump engaged in numerous outrageous, racially charged feuds — including with the family of Muslim U.S. Army captain who was killed in Iraq in 2004.
"It was in response to a series of events that included then-candidate Trump insulting the immigrant family of a fallen war hero, and my presumption based on that horrible, disgusting behavior, that the American population would not elect someone demonstrating that behavior to be president of the United States," Strzok said.
"It was in no way, unequivocally, any suggestion that me, the FBI, would take any action whatsoever to improperly impact the electoral process for any candidate," he added.
July 12, 2018, 11:57 a.m. Eastern: This story has been updated.