Girl heard crying in ICE detention audio recording will reportedly be reunited with mom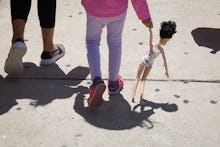 Nearly a month after audio of her disembodied voice horrified a nation, one of the unaccompanied immigrant children who could be heard crying out for her family in a viral recording obtained by ProPublica will soon be reunited with her mother.
In the audio, which was supplied to ProPublica by a civil rights attorney who obtained it from an unnamed source, unaccompanied immigrant children can be heard sobbing and pleading with adults inside of a United States Customs and Border Protection detention facility to let them speak to their parents.
One of the voices belonged to 6-year-old Alison Jimena Valencia Madrid, her mother, Cindy Madrid, told CNN. The pair were separated as part of President Donald Trump's policy of separating immigrant families at the southern border.
In the recording, between anguished cries of "mami" and "papa," Alison can be heard reciting the phone number of her aunt, which Madrid told CNN she had helped her to memorize during their 17-day trek from El Salvador to the U.S.
"Mommy says I'll go with my aunt and that she'll come to pick me up as quickly as possible," Alison says at one point.
Madrid told CNN that she fled El Salvador because of rampant violence and poverty, and said that Alison was nearly kidnapped during the arduous journey to the U.S. border, where they were eventually detained.
On Wednesday night, Cindy Madrid was released from custody at the Immigration and Customs Enforcement's Port Isabel detention center in Texas. On Thursday, she will head to Arizona, where Alison has been held in a shelter.
Madrid told CNN that she's "very happy to be out" and that she "can't wait to see her little girl."
At another point in the ProPublica audio, an adult can be head saying of the wailing children, "We have an orchestra here — what's missing is a conductor."
"It's sad they would say that about a suffering child," Madrid told CNN in an interview in June. "I'm grateful, though. No one would know what the children are going through if not for the audio."
On June 26, a federal judge issued a preliminary injunction ordering the Trump administration to stop separating families and immediately, and the government has been scrambling to comply ever since. The first court-ordered deadline — to reunite children under 5 with their families — came and went on July 10 with no word from the government on whether it complied. On Thursday, the Department of Homeland Security announced it had reunited 57 of the estimated 102 children in the category.
Lee Gelernt, the lead American Civil Liberties Union lawyer who argued the case for the preliminary injunction, responded by saying that the organization will be weighing its options in terms of "what remedies to recommend to the court for the noncompliance."
"If in fact 57 children have been reunited because of the lawsuit, we could not be more happy for those families," Gelernt said in a statement. "But make no mistake about it: The government missed the deadline even for these 57 children."