Aja premieres new video for "I Don't Wanna Brag" featuring 11 jaw-dropping lewks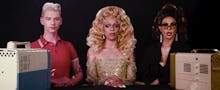 After channeling their inner witch in the "Brujería" music video, former two-time RuPaul's Drag Race contestant Aja is back. And this time it's with the video for "I Don't Wanna Brag," a boastful track from her recently released debut EP, In My Feelings.
The clip, which features 11 looks in fluid displays of gender presentation (including a french noir mime and flamboyant mafioso-inspired get-up) is, as Aja explains, the channeling of various energies that are all true to form.
"What you're seeing is really all just me as a person," they said in an interview. "I don't really see gender as much more than an illusion created by society. When I said that I wasn't just a drag queen, I really meant that. My art for styling and music transcends just the art of drag because I do present out of drag as myself in the raw as well. It doesn't make me better at all, it just makes me myself."
In addition to Aja, the Assaad Yacoub-directed video for "I Don't Wanna Brag" features Drag Race season seven winner Violet Chachki and season nine finalist Trinity "The Tuck" Taylor, as well as drag legend Sasha Colby and Dragula season two winner, Biqtch Pudding.
"Flow so wet I fucked around it and I drowned/ Bulge in my jeans, I'm well endowed/ Pull out my TEC-9, I'll show you I'm loud/ I'm crazy, I don't fit in the binary," they rap on the song.
Gender is just one of the social issues Aja feels passionate about. Asked if they think the racism plaguing the Drag Race fandom is as pervasive in the music world, Aja said it's "just as rampant in the music world."
"But all we can do is prove to be amazing artists of color," Aja said. "When someone cannot pinpoint something they don't like about you other than your skin color, then that's when you know nothing is wrong with you — it's that person. My experiences have been fairly decent so far. I hope they continue to stay good and get better."
Watch the video below.