Sandra Oh just scored an Emmy nomination for her role in 'Killing Eve' — and made history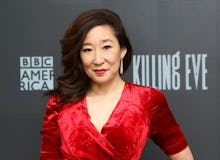 Emmy nominations were announced Thursday morning, and actress Sandra Oh just snagged a nod for her role in the BBC America drama Killing Eve. There had been plenty of speculation that Oh might earn a nomination leading up to Thursday's announcement, seeing as her star turn in Killing Eve had earned widespread critical acclaim. And, as Time reported on Thursday, her nomination makes history — Oh is the first Asian actor to earn an Emmy nomination in the best actress in a drama category.
Killing Eve stars Oh as Eve Polastri, an office drone working for British intelligence who becomes obsessed with tracking down a deadly female assassin. Over the course of the eight-episode first season, Eve and the assassin, Villanelle, played by Jodie Comer, engage in a delicate, high-stakes back and forth, each becoming similarly invested in learning more about the other woman.
Based on a series of novels, Killing Eve was developed by Phoebe Waller-Bridge, the mind behind the dark comedy Fleabag, and it's as much dry humor as it is cat-and-mouse chase (Waller-Bridge also earned an Emmy nomination for Killing Eve, for outstanding writing for a drama series).
Speaking to Vanity Fair in April, Oh said she had been waiting for years for a role like Eve to come along. "The four years of actively waiting by doing the things that I love ... it was my choice to do three plays. It was my choice to do American Crime, you know. Actually being able to exercise your own choice can bring about greater opportunity. I think it's just as important what you say no to as what you say yes to." And of Killing Eve, she added, "I hope it was worth the wait."
Thursday's Emmy nomination seems to confirm that it was. Now we'll just have to wait for September's Emmy awards to see whether Oh wins a trophy. The other actors nominated in the same category are Elisabeth Moss for The Handmaid's Tale, Claire Foy for The Crown, Keri Russell for The Americans, Evan Rachel Wood for Westworld and Tatiana Maslany for Orphan Black.
The 70th Primetime Emmy Awards will be held on Sept. 17 at the Microsoft Theater in Los Angeles. Saturday Night Live's Colin Jost and Michael Che will host the ceremony, which will air on NBC at 8 p.m.
July 12, 2018, 12:29 p.m.: This article has been updated.