'RuPaul's Drag Race' nominated for second straight Emmy for best reality program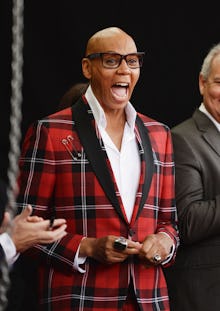 Emmys, in the words of RuPaul himself: Don't fuck it up.
During Thursday morning's livestream announcement of the 2018 Emmy nominations, VH1's RuPaul's Drag Race scored a nod in the outstanding reality competition program category for the second year in a row, showing yet again that Drag Race is an increasingly mainstream force to be reckoned with.
Drag Race earned 12 nominations in total, including best host for RuPaul Charles, best unstructured reality program for Drag Race after-show Untucked and best directing for a reality program.
Drag Race will vie for the title of best reality program, up against NBC's American Ninja Warrior and The Voice, CBS' The Amazing Race, Lifetime's Project Runway and Bravo's Top Chef, an identical copy/paste of the nominees from 2017.
Though Drag Race didn't ultimately win the top prize (The Voice won), the nomination was a start. And this second subsequent acknowledgement is an encouraging sign, not only that the Emmys are paying attention to what TV audiences are passionate about, but also that the show's cultural footprint is growing. The season 10 finale, which featured the infamous "butterfly incident," was the highest-rated finale the show has ever seen, according to Entertainment Weekly.
The 70th annual Emmy Awards airs at 8 p.m. Eastern on Sept. 17 on NBC.
July 12, 2018, 12:41 p.m.: This story has been updated.