Ocasio-Cortez defeated Crowley in the primary, but he won't take his name off the November ballot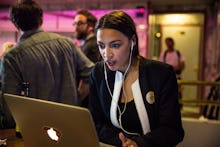 The battle between rising progressive star Alexandria Ocasio-Cortez and her Democratic establishment challenger may not be over yet.
On Tuesday the New York Times reported that Democratic Rep. Joe Crowley, who was defeated by Ocasio-Cortez in the June 26 primary, will still appear on the ballot line as the candidate for the progressive Working Families Party.
The WFP typically nominates progressive candidates — they nominated progressive challenger Cynthia Nixon over incumbent Democratic Gov. Andrew Cuomo for the upcoming New York gubernatorial primary. On June 5, however, the WFP endorsed Crowley over Ocasio-Cortez, who was considered a long-shot candidate at the time.
New York uses a "fusion" voting system in which one candidate can be nominated by multiple parties and can appear multiple times on the ballot under each party's ballot line.
On the night of the election, the WFP issued a statement just minutes after Ocasio-Cortez's victory, reversing course and formally endorsing her candidacy.
Yet Crowley remains the official choice on the New York ballot. WFP Director Bill Lipton said in a statement to Mic that Crowley could have used a common tactic in politics to remove himself from the WFP ballot line after his loss, but he declined.
"It is disappointing that Crowley has refused to vacate the Working Families Party ballot line," Lipton said. "He chose not to show Ocasio-Cortez and the WFP respect by allowing us to put Ocasio-Cortez on our ballot line."
Ocasio-Cortez responded to the report on Twitter Thursday morning, accusing Crowley of "mounting a 3rd party challenge" against her.
Crowley then took to Twitter himself to dispute Ocasio-Cortez's characterization of events, saying that he's made his support for Ocasio-Cortez clear and that he is "not running."
Crowley also appeared to push back on Lipton's claim that he declined to remove himself from the ballot by saying that a candidate can only be removed if "1) you move out of NY; 2) die; 3) be convicted of a crime; 4) accept a nomination for another office (in a place I don't live)."
Crowley's accounting of the legal requirements for removing a candidate from the ballot are technically correct according the the WFP. But they also claim that there are simple workarounds to the law that have been used by many candidates in the past.
"The New York State Court of Appeals has found that it is standard for parties to substitute candidates after a primary election, and that the practice does not violate the letter or the spirit of the law," said WFP counsel Alex Rabb. "I respect Congressman Crowley's concerns, but there are common, straightforward and legal ways to remove candidates from the ballot in cases like this."
One such workaround would have been to give Crowley a pro-forma nomination to another New York office. That would have allowed Crowley to vacate the seat and allow Democrats to unify around Ocasio-Cortez according to the WFP.
When the WFP first asked Crowley to vacate the seat, that option was still on the table, but Crowley declined and now the deadline for many of those offices have passed.
But the WFP says there are other ways that Crowley could remove himself that have been deemed legal by the courts and are well short of "election fraud."
"The only remaining way for Crowley to do the right thing is to switch his residency to Virginia, where his family resides and his children already go to school," said Lipton. "It would fix the problem he created in an instant."
Crowley is no stranger to these kinds of political machinations around party rules. Crowley first won election in 1998, when longtime Democratic Rep. Thomas Manton announced at the very last minute that he would not seek re-election and transferred his ballot qualification signatures to Crowley.
Because Manton, a popular incumbent had appeared to be seeking re-election up until the very last minute, no other challenger was able to enter the race and Crowley was effectively handed the seat.
Now Crowley appears unwilling to make similar maneuvers for his own successor.