Partisan tensions boil over during Strzok testimony after months of hostile Russia hearings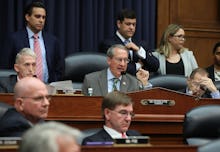 A public hearing on the anti-Trump text messages two FBI officials exchanged in 2016 descended into a partisan donnybrook Thursday — a boiling over of tensions that had been growing for more than a year during hearings related to the Russia probe.
Republicans and Democrats — who have used their platforms during public testimonies to either attack or defend special counsel Robert Mueller's investigation — argued with one another on a live broadcast Thursday over the combative questioning of Peter Strzok, whose texts with former FBI lawyer Lisa Page have been cited by President Donald Trump and his allies as evidence the Russia probe is a politically-motivated "witch hunt."
The row got started early on, when Strzok told South Carolina Republican Trey Gowdy — chair of the House Oversight Committee — that he could not answer the first question he asked because he could not discuss matters "related to the ongoing investigations being undertaken by the special counsel's office."
Rep. Bob Goodlatte (R-Va.), who chairs the House Judiciary Committee, threatened Strzok with contempt — drawing an objection from New York Democrat Jerrold Nadler, the committee's ranking member. Nadler's protests were dismissed by Goodlatte.
"The gentleman is not recognized," Goodlatte said, in response to Nadler's objections.
"And the chairman is not being proper," Nadler replied.
The bickering between the two panel leaders — which was soon joined by other members of the committees at the joint hearing — represented a boiling over of tensions that have been rising for over a year as Congress has questioned officials related to the Russia investigation.
The tone of that questioning has largely been divided along party lines, with hearings seemingly becoming proxy battles over the legitimacy of the Mueller probe.
Many Republicans have used the high-profile hearings as an opportunity to scrutinize the federal investigation into possible collusion with Russia on the part of the Trump campaign, as well as potential obstruction of justice on the part of the president.
Meanwhile, Democrats have tended to use the hearings to defend the probe, accusing their counterparts of attempting to undermine the special counsel to provide political and legal cover for Trump.
Thursday's was perhaps the most contentious of the Russia hearings to date, with representatives openly arguing with one another and occasionally interrupting their colleagues' lines of questioning.
Nadler and other Democrats raised objections to Gowdy's opening question and Goodlatte's threats of contempt against Strzok.
Rep. Eric Swalwell (D-Calif.), a strong defender of the Russia probe, said former Trump adviser Steve Bannon had also refused to answer some questions during a Capitol Hill testimony, but had not been held in contempt. Later in the hearing, Swalwell attempted to subpoena Bannon to appear on Capitol Hill again, but Republicans rejected the measure.
Democrats continued to push back on Gowdy when he continued with his confrontational line of questioning against Strzok, with Rep. Bonnie Watson Coleman (D-N.J.) at one point interjecting that the FBI agent was being subjected to "harassment" by the South Carolina Republican.
Meanwhile, Rep. Elijah Cummings (D-Md.), ranking member of the House Oversight Committee, appeared to be met with an objection during his opening statement as he listed the names of people who had pleaded guilty in the Mueller investigation as staffers held large photographs of the officials behind him.
Goodlatte allowed Cummings to press on.
The quarrels continued as the hearing carried over into the afternoon, with lawmakers debating whether or not to release the transcript of Strzok's closed-door June testimony on Capitol Hill.
Trump had been critical of the closed-door meeting, saying that Strzok's testimony and "the other hating frauds at the FBI & DOJ should be shown to the public on live television."
"We should expose these people for what they are," Trump tweeted June 25. "There should be total transparency!"
The hearing got even more heated during a line of questioning from Rep. Louie Gohmert (R-Texas), who called Strzok a "disgrace" and took a dig at the former FBI agent over his affair with Page.
"I can't help but wonder, when I see you looking there with a little smirk, how many times did you look so innocent into your wife's eyes and lie to her about Lisa Page?" Gohmert said.
That elicited strong objections from Democrats, who could be heard yelling that it was "outrageous."
"You need your medication!" one person could be heard yelling at Gohmert.
Strzok also strongly rebuked Gohmert, who continued to bicker with the FBI agent, saying that the remark about "a family member I've acknowledged hurting" says more about "your character and what you stand for" than it did his own.
It was revealed in December that Strzok had been dismissed from Mueller's team earlier in 2017 after the special counsel became aware of texts Strzok had exchanged with Page.
The two FBI officials had called Trump a "menace" and criticized him in a series of texts that have since been made public. In a now-infamous 2016 exchange cited in a June inspector general report, Strzok told Page that Trump "won't" become president because "we'll stop it."
Trump and his allies have said that the texts indicate Strzok sought to use his position at the FBI to block him from the presidency — and that they suggest broader political bias across federal law enforcement.
But Strzok said Thursday that his personal opinions never factored into his work on the Russia probe or an earlier investigation into Hillary Clinton's handling of classified information.
"Not once in my 26 years of defending my nation did my personal opinions impact any official action I took," Strzok told the panels. "[The Russia probe] is not politically motivated. It is not a witch hunt. It is not a hoax."
He also said that the "we'll stop it" text did not reveal an effort by himself or any FBI officials to "improperly impact the electoral process," but an "off-the-cuff" expression of his belief at the time that the American public would not elect Trump following a series of outrageous statements and actions during the campaign, including his feud with a Gold Star military family.
"It was in response to a series of events that included then-candidate Trump insulting the immigrant family of a fallen war hero," Strzok said. "My presumption based on that horrible, disgusting behavior, that the American population would not elect someone demonstrating that behavior to be president of the United States."
But Republicans continued to grill Strzok, with some, including Rep. Jimmy Duncan (R-Tenn.) suggesting he should have recused himself from the Clinton and Trump probes.
"I think the ethical, fair, just and proper thing would have been for you to recuse yourself and move onto other work," Duncan said. "There were many other cases that you could've worked on that you had never expressed any bias."
Nadler, though, objected to Republicans' combative questioning, accusing them of using Strzok's texts to subvert Mueller.
"They are scared," Nadler said. "They are trying to undermine the investigation and distract attention."
July 12, 2018, 3:32 p.m. Eastern: This story has been updated.