Movement Must-Reads: The future of Roe v. Wade and black-led efforts to reduce gun death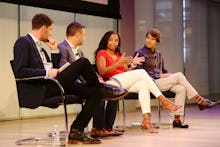 A trio of eye-opening reports marks this week's Movement newsletter, ranging from pro-choice advocates' strategic responses to Supreme Court Justice Anthony Kennedy's retirement announcement to the anti-bias potential of virtual reality technology.
Read on for more.
From Mic:
Kelly Kasulis on how using virtual reality to inhabit another person's body — Albert Einstein's, in the case of one study — can be an effective anti-bias training tool.
Jennifer Gerson on how pro-choice advocates are intensifying their legal efforts to protect women's right to abortion as Justice Anthony Kennedy's impending retirement approaches.
And Chauncey Alcorn on the feud between ESPN reporter Jemele Hill and conservative pundit Candace Owens, touching on the myths surrounding the notion that black people don't care about gun violence in their communities.
And from elsewhere:
This BuzzFeed report on how so many white Democrats have failed to stand up for Rep. Maxine Waters (D-Calif.) in her recent feuds with the Trump administration.
This New York magazine piece on IfNotNow, the young Jewish American activist group that opposes Israel's brutal policies toward Palestinian Arabs in the West Bank, East Jerusalem and the Gaza Strip.
That's all for now. Until next week.
— Zak Cheney-Rice, editor, The Movement