A new project catalogs 20,000 weird and wonderful objects lost in Amsterdam's canals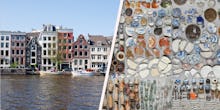 A single found object has thousands of stories to tell: What purpose did it serve? Who found it useful? And how did it get to where it was found?
A newly launched, massive database presents just a fraction of the 700,000 objects recently uncovered in Amsterdam's Amstel River, the main artery of the city. Between 2003 and 2013, the river was pumped dry for the construction of a new metro line in the city. Rather than simply dispose of the physical items found in the drained canal, archaeologists meticulously collected, examined and cataloged nearly 700,000 objects, some of which sat in the canal for about 800 years.
While a number of different sections of the city were excavated, the project focuses on items found in the Amstel's Damrak and Rokin neighborhoods, sites particularly packed with artifacts.
On the project's website, Below the Surface, anyone can scroll through a digital catalog — called "Stuff" — of about 20,000 of these found relics.
"The objects paint a multifaceted picture of daily life in the city of Amsterdam," the site reads. "Every find is a frozen moment in time, connecting the past and the present." Riverbeds make for unique archaeological sites because the sunken and inaccessible objects are often kept intact, according to Below the Surface.
To examine the historical artifacts from behind a computer screen is a unifying and somewhat heady exercise: We've all lost material items, and we've all walked upon or floated by objects steeped in history.
"We're not just talking about individual objects, we're talking about the reflection of the city itself given by the objects that have fallen in the river," Jerzy Gawronski, an urban archaeologist for the city who worked on the project from its beginnings, said in a phone interview.
Found objects help us learn about history through a more personal lens, unlike the traditional materials and texts assigned in classrooms.
"It gives us a view of everyday life — stuff out of the history books," Ann Smart Martin, an art history professor at the University of Wisconsin-Madison who holds a doctorate in early American material culture, said in a phone interview.
In a sense, these items tell more objective stories than, say, a history book, because the act of losing something doesn't really discriminate. Everyone's at risk that a gust of wind may sweep something away from their possession and plop it in the river. This type of history is "unfiltered," Martin said.
The response to the online database has been nothing short of "overwhelming," Gawronski said, adding that feedback has poured in from all over the world.
"In the first two weeks, we had an average of 50,000 unique visitors a day. In terms of public response, its incredible," Gawronski said. Beyond the scale of reactions, they've all been "more than positive," he added, saying this factor "really encourages us to increase public access for these kinds of projects."
One very dated object found was a tankard — a stoneware drinking vessel — the Below the Surface team traced back to sometime between 1575 to 1600. Its design tells a story of its own: The surrounding text on the item, which translates to, "He who is patient shall always have enough and shall not go without, even if it were only a piece of bread," was likely meant to reassure farmers who relied on God as they waited for the harvest, the site explains.
More modern items were excavated, too. The team unearthed several mobile phones, digital cameras and bicycle parts. Many iron horseshoe studs were collected, which makes sense considering horse-drawn carriages were the primary form of transportation until the early 20th century.
According to the project page, "The engineers were specifically instructed to spare the historic city when drawing up their plans." The decision to document lost items reveals a culture that values its history. And with different filters and tools, there are multiple ways to explore the digital catalog of stuff based on object, date or function. Martin said the project's execution — and the fact it is now available for public consumption — "opens our eyes in ways they haven't been in the past."
The project is also on display at two separate Amsterdam metro stations, each with 5,000 items on display. It's an entirely different experience, Gawronski said.
"They expose these objects to people who are not prepared," he added. "When you go to a museum, you go with an intention to be confronted with history. Commuters who take the metro suddenly see all of these objects and they are taken by surprise."