Mic Daily: Tensions run high during Strzok testimony, Sandra Oh makes Emmy history and more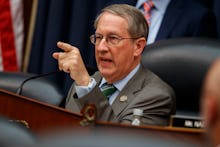 Welcome to Mic Daily: Mic's email newsletter that cuts through the noise and lands in your inbox every weekday. We carefully curate each edition to send you a cross section of our most vital stories of the day. Want to receive this as a daily email in your inbox? Subscribe here.
A public hearing on the anti-Trump text messages two FBI officials exchanged in 2016 descended into a partisan donnybrook Thursday — a boiling over of tensions that had been growing for more than a year during hearings related to the Russia probe.
Nearly a month after audio of her disembodied voice horrified a nation, one of the unaccompanied immigrant children who could be heard crying out for her family in a viral recording obtained by ProPublica will soon be reunited with her mother.
Emmy nominations were announced Thursday morning, and actress Sandra Oh just snagged a nod for her role in the BBC America drama Killing Eve. There had been plenty of speculation that Oh might earn a nomination leading up to Thursday's announcement, seeing as her star turn in Killing Eve had earned widespread critical acclaim. And, as Time reported Thursday, her nomination makes history — Oh is the first Asian actor to earn an Emmy nomination in the best actress in a drama category.
If you're surprised at Kylie Jenner's sudden appearance on a Forbes list, you probably haven't been paying attention. You're not alone, demonstrated by the gobsmacked, baffled, almost angry reaction Wednesday to the magazine's August cover, which features the 20-year-old Jenner staring into the camera looking like the entrepreneur she is, arms crossed in a black blazer, with a headline proclaiming her one of "America's Women Billionaires."
Don't forget: Mic Dispatch premieres soon on Facebook Watch
Mic's new, correspondent-led newsmagazine show, Mic Dispatch, premieres Tuesday. Twice a week, our news team will bring you exclusive reporting on this momentous cultural era the way we see it: complicated, diverse and full of potential. Subscribe here for alerts on new episodes and tune in Tuesdays or Thursdays on Facebook Watch here.