Hype Daily: Emmy nominations, misogyny in comedy and more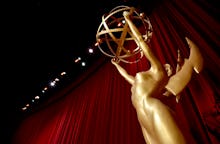 Don't forget! Mic's new, correspondent-led newsmagazine show, Mic Dispatch, will premiere Tuesday, July 17! Twice a week, our news team will bring you exclusive reporting on this momentous cultural era the way we see it: complicated, diverse and full of potential. Subscribe here for alerts on new episodes and tune in Tuesdays or Thursdays on Facebook. Watch here.
And now, on to Hype Daily, Mic's morning entertainment roundup. Here's everything you need to catch up on in the entertainment world and what to look forward to today. Want to receive this as a daily email in your inbox? Subscribe here.
Good morning from Hype reporter Anna Swartz.
Emmy nominations came out yesterday
Emmy nominations were announced Thursday, and, even though the awards show isn't until Sept. 17, there are already some big winners. The streaming service Netflix, for example, beat out HBO and earned the most nominations — 112 to HBO's 108, ending HBO's long streak of earning the most nominations. But HBO's Game of Thrones earned the most nominations for a single series, with 22 total noms.
And Sandra Oh, who was nominated for best actress in a drama for her starring role in the BBC America drama Killing Eve, is the first Asian actor to be nominated in the category. Check out a full list of nominees here.
A stand-up comic opened up about misogyny in the comedy world
In a viral op-ed published this week in Refinery29, comedian Arden Myrin, a veteran of MadTV with plenty of film and television credits to her name, wrote about a recent sexist experience she had at a comedy show. She described being introduced to the stage by two male comics who "jokingly" welcomed her by saying, as Myrin described it, "Our next comic is a female. Yup, she's a girl comic. She's got titties. That's right guys, just picture taking out your wet dicks and sliding them back-and-forth between those big ole' titties. Please welcome…"
Myrin described her shock and embarrassment — and how "jokes" like that, over-the-top sexism under the guise of irony, set women comics up to be dehumanized even before they get a chance to speak. "When people pull things like this on women, women don't even get to start on a level playing field," Myrin wrote. "There's no blank slate. They have to stop and deal with the verbal assault first and then attempt to change the energy of the room before moving on to doing their jobs — in my case doing my stand-up set." Read the full op-ed here.
Roy Moore was apparently also fooled by Sacha Baron Cohen
Earlier this week, I told you about how Sarah Palin was apparently fooled into an interview with comedian Sacha Baron Cohen for his upcoming Showtime show — now it turns out she's not the only conservative figure who got duped. Radio host Joe Walsh was also taken in and so was Roy Moore, the failed Alabama Senate candidate who was accused by multiple women of sexual assault. According to a statement from Moore, he was invited to attend what he believed was a pro-Israel event — and it seems like he may have only later realized it was part of Cohen's new comedy show.
A lemon went viral yesterday
Is this entertainment news? I'm not sure, but it is entertaining. A video posted on Twitter Wednesday went mega-viral Thursday — and all it shows is a lemon casually rolling down the street for nearly two minutes. Mike Sakasegawa, the Twitter user who posted the video, wrote, "Today as I was walking home after my run I saw a large lemon rolling down the hill. It kept rolling for about a quarter mile. And now you can see it, too." Wow — it sure is hypnotic to watch. And as of Friday morning, it had 6.4 million views on Twitter. Watch the whole thing here.
Put this on your radar: Mission: Impossible – Fallout
OK, so Mission: Impossible — Fallout, the latest installment in Tom Cruise's Mission: Impossible franchise, doesn't come out in theaters until July 27, but it's already getting rave reviews. Variety called it the "the series' most exciting installment yet," and Entertainment Weekly said it was "proof that this has become the rare franchise that seems to just get better, twistier and more deliriously fun with each installment." So what makes this new movie so great? We'll have to wait to find out, but it seems like it's got a plot with lots of big reveals, classically thrilling stunts and, of course, Tom Cruise — who is 56 and doesn't look it.