Today in Trump's America: Trump torpedoes UK special relationship, drops white nationalist comments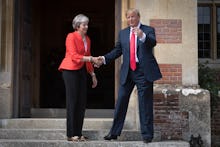 Welcome to Mic's daily read on Donald Trump's America. Want to receive this as a daily email in your inbox? Subscribe here.
Good morning from Emily Singer at Mic.
Here's what's happening in Trump's America:
• Trump is in the United Kingdom for a working visit with British Prime Minister Theresa May, who the president publicly shivved Thursday in an interview with the Sun, saying she ruined Brexit negotiations. This could further imperil her control of Britain's Parliament.
About last night: Trump makes white nationalist comments in interview with British tabloid
Trump spewed white nationalist rhetoric in his interview with Rupert Murdoch's British news outlet the Sun, saying Britain is "losing its culture" thanks to immigration.
"Allowing the immigration to take place in Europe is a shame," Trump told the Sun. "I think it changed the fabric of Europe and, unless you act very quickly, it's never going to be what it was and I don't mean that in a positive way.
"I think you are losing your culture," Trump continued. "Look around. You go through certain areas that didn't exist 10 or 15 years ago."
Saying that Britain, a predominantly white country, will lose its culture because nonwhite people are migrating there is textbook white nationalism.
GOP Rep. Steve King of Iowa often makes such white nationalist comments, but he is brushed off as being a fringe member of the House. Yet now the leader of the Republican Party and free world is spewing that same rhetoric, making it harder for the GOP to distance itself from white nationalism.
Today in Trump's America: Trump holds meetings with Theresa May
Trump continued his trend of taking a wrecking ball to his relationships with world leaders during his European trip, this time by publicly criticizing British Prime Minister Theresa May over her plans for "soft" Brexit. Trump said that her Brexit plan, which just led to two hardline members of her party resigning this week, may have killed a proposed vital trade deal between the U.S. and the U.K.
"If they do a deal like that, we would be dealing with the European Union instead of dealing with the U.K., so it will probably kill the deal," Trump told the Sun of May's plan to not totally cut the U.K. out of the EU.
Trump's criticism of May's handling of Brexit comes as May's grasp on control of the U.K. government is in peril. Top members of her cabinet, David Davis and Boris Johnson, along with conservative members of Parliament, resigned in the past week, saying they do not support her Brexit plan. Trump's harsh comments were published as he and May dined together at a gala in the English countryside.
The White House tried to play damage control after the interview dropped, given that Trump still has a day of meetings with May on Friday.
"The president likes and respects Prime Minister May very much," White House press secretary Sarah Huckabee Sanders said in a statement. "As he said in his interview with the Sun, she 'is a very good person' and he 'never said anything bad about her.' He thought she was great on NATO today and is a really terrific person. He is thankful for the wonderful welcome from the prime minister here in the U.K."
Trump said Friday morning before a bilateral meeting with May that his relationship with the U.K. is "very, very strong."
"We had a dinner where I think we probably never developed a better relationship than last night," Trump said. "We spoke for hours, an hour and a half, and it was really something."
Capitol Hill happenings: Republicans plan to troll Democrats with "abolish ICE" vote
House Republicans will put a bill to abolish the Immigration and Customs Enforcement agency to a vote. It's seen as an attempt to troll Democratic lawmakers, getting them to go on record about a policy that may alienate the Democratic Party from swing voters, Politico reported.
The vote is a cynical ploy that undermines Speaker Paul Ryan's past claims during immigration debates where he said he would only put immigration bills on the floor that he knows Trump will sign. Obviously, Trump would never sign a bill abolishing ICE, and he has previously attacked Democrats over the abolish ICE campaign.
"We're not going to bring immigration legislation through that the president doesn't support," the speaker said back in February, when Congress tried to come up with a solution for the Deferred Action for Childhood Arrivals program.
Republicans have used this legislative trolling attempt in the past. A year ago, Senate Republicans put a single-payer bill on the floor during the GOP's Affordable Care Act repeal effort to get Democrats on record. Democrats in response voted "present" — a neither yes or no vote.
"I suspect that what Sen. [Steve] Daines is doing is nothing more than an old political trick, trying to embarrass Democrats," Sen. Bernie Sanders (I-Vt.) — who backs a single-payer system — said before that vote.
And the rest…
North Korea: North Korean leaders failed to show up to a Thursday meeting about returning the remains of American soldiers from the Korean War, the New York Times reported. Trump lied in June when he said the North Koreans had "already sent back or are in the process of sending back the remains of our great heroes." The news that North Korea failed to show up to the meeting came after Trump released a thank-you letter North Korea's Kim Jong Un sent, in which Kim repeatedly called Trump "Your Excellency."
Damage control: The Pentagon is trying to reassure NATO allies after Trump threatened the Western military alliance during meetings in Brussels earlier this week, NBC News reported. According to NBC's report, the Pentagon is assuring NATO member countries that the U.S. will keep its military bases in their countries and that troop levels will remain the same.
Embarrassing display: A House hearing Thursday with FBI agent Peter Strzok — whose anti-Trump text messages with FBI lawyer Lisa Page have led to a conservative uproar — devolved into an embarrassing partisan display. Ultimately, the Republican argument that Strzok's anti-Trump texts influenced the way the FBI treated Trump was totally blown to smithereens, as Strzok could have made public that the FBI was investigating the Trump campaign's ties to Russia during the campaign but chose to keep that information quiet.