Who's Sorry This Week? Roseanne Barr (again), Amir Khan and other public apologies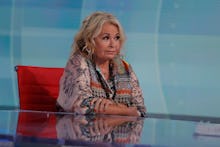 Another week, another deluge of apologies.
In Who's Sorry This Week? Mic tracks down the most prominent mea culpas from celebrities, companies and other public entities trying to make amends for their various screwups.
This week had no shortage of apologies, so let's get right to it.
Roseanne Barr is sorry Valerie Jarrett (and everyone?) misunderstood her racist tweet
Roseanne Barr appeared on Sean Hannity's Fox News program Thursday to discuss her firing from ABC's rebooted Roseanne sitcom — a decision the network made after Barr tweeted a racist insult about Valerie Jarrett, an adviser to former President Barack Obama.
Over the course of the interview, Hannity repeatedly tried to get Barr to directly apologize to Jarrett. The former Roseanne star seemed reluctant, saying, "I already have said I'm sorry for two months."
Barr insisted the tweet, in which she said Jarrett looked like the offspring of someone from the Muslim Brotherhood and a character from The Planet of the Apes, was "political" and not "racial." Barr told Hannity she thought Jarrett was Middle Eastern, according to NPR. (Barr recently published a YouTube video on her personal channel in which she screamed, "I thought the bitch was white.")
Barr eventually addressed the camera head-on and apologized to Jarrett, again, for her racist tweet — but insisted it was just a misunderstanding.
"I'm so sorry you thought I was racist and that you thought my tweet was racist because it wasn't," Barr said. "It was political. I'm sorry for the misunderstanding that caused — my ill-worded tweet — and I'm sorry that you feel harmed and hurt. I never meant that. And for that I apologize. I never meant to hurt anybody or say anything negative about an entire race of people, which I think 30 years of my work can attest to."
Almost immediately, though, Barr then poked fun at Jarrett's hair.
"She's gotta get a new haircut — I mean seriously, she needs a new haircut," she said.
Hannity then asked Barr for advice about his own hair. She said he was parting his hair too closely to the middle of his head.
The New York Times is sorry it described a street in Los Angeles as the source of "all useless items in the world"
The New York Times on Monday published an article by Reif Larsen about hidden sanctuaries in the Los Angeles area. Almost immediately, the piece drew intense criticism for the way it dismissively described aspects of the city and misunderstood its nuanced, local culture.
One paragraph stood out as particularly egregious.
"I emerged from the cavernous, art deco masterpiece of Union Station into a strange neighborhood where each stop seemed to be peddling only one thing: the shop selling Jesus statuettes was next to the shop selling giant stuffed bears was next to the shop selling soccer uniforms for babies was next to the shop selling piñatas," Larsen wrote. "It soon became clear to me that these three blocks were the source of all useless items in the world."
The following day, the Times published a response to readers' criticism of the story:
Readers took issue with the reference to a historic street in downtown Los Angeles that sells Jesus statuettes and piñatas as the source of "all useless items in the world." We now see how it came across as offensive. We appreciate the feedback and know that we can do better.
Larsen also posted an apology on Twitter, saying the line about "useless items" was meant to be a joke.
"Some readers expressed concern that I came off as insensitive when I jokingly referred to a neighborhood as a source of 'useless items' as though it didn't have its own rich history," he said. "I didn't mean to cause offense & to those who felt dismissed by this comment, I apologize."
The Times posted another apology Friday morning for Ben Brantley's review of the Broadway show Head Over Heels. Critics of Brantley's article said it was dismissive of trans and nonbinary people.
Z-Burger is sorry it posted a meme on Twitter featuring American journalist James Foley, who was kidnapped and beheaded by ISIS
The burger chain Z-Burger recently posted an ad on Twitter meant to make itself look good in comparison to bigger chains like McDonald's. The ad depicted a meme-style image with the text, "When you say you want a burger and someone says okay let's hit McDonalds," according to the Washington Post.
The image was a photograph of James Foley, a journalist who was kidnapped by members of ISIS in 2012 and publicly executed in 2014. Backlash ensued almost immediately.
The tweet was soon taken down, and a number of apologies took its place over the following days. Peter Tabibian, Z-Burger's founder, said the problem originated with Valor Media, a social media contractor.
"I find it necessary to personally emphasize to our customers and friends that Z-Burger does not permit the use of offensive language, photographs or video content on our Twitter page, or in any media," he said. "I have taken immediate steps to ensure that this never happens again, and our customers have my promise to ensure that established controls over the placement of amateur promotional posts on our Twitter page are more closely followed, immediately."
Valor Media CEO Michael Valor posted his own apologies on Twitter in the form of vlog-style videos.
"What up guys?" Valor said in the first of several videos. "Michael Valor here. CEO of Valor Media. President, founder, owner of Valor Media ... I do want to apologize for putting Z-Burger's reputation on the line."
In the wake of the incident, Valor said he will be working with and sponsoring the James W. Foley Legacy Foundation.
After criticism that his initial video apologies were crass and casual, Valor posted a more rehearsed apology, wearing a suit instead of a T-shirt.
Tabibian posted yet another apology statement on Z-Burger's Twitter on Wednesday, saying he had ended Z-Burger's relationship with Valor Media and had donated to the James W. Foley Legacy Foundation.
Rick and Morty co-creator Dan Harmon is sorry for a 2009 video sketch in which he pretended to rape a doll
A few days after Disney fired Guardians of the Galaxy director James Gunn for a number of offensive jokes he posted on Twitter several years ago, far-right conservatives dredged up an old video sketch from Rick and Morty co-creator Dan Harmon in an attempt to get him fired, too.
The 2009 video reportedly shows Harmon sneaking through a window, pulling down his pants and rubbing his genitals against a baby doll. Harmon said he took the video down soon after it was posted, but recordings of it have lived on in communities on 4chan and Reddit. Adult Swim, which airs Rick and Morty, declined to fire Harmon, saying Harmon "recognized his mistake at the time and has apologized."
Harmon deleted his Twitter and released a statement amid calls for his firing.
"In 2009, I made a 'pilot' which strove to parody the series Dexter and only succeeded in offending," Harmon said in a statement, per Polygon. "I quickly realized the content was way too distasteful and took the video down immediately. Nobody should ever have to see what you saw and for that, I sincerely apologize."
Amir Khan is sorry he deadnamed Caitlyn Jenner at the ESPYs
At the ESPYs, an sports awards show hosted by ESPN, boxer Amir Khan snapped a photo of himself with Caitlyn Jenner. According to BBC, the caption for the photo — which Khan posted on Snapchat — referred to Jenner by her "dead name," a term referring to the name a transgender person was given at birth. (Dead names are often a source of pain for trans people, and it is generally considered unacceptable to refer to a trans person by their birth name if they have chosen a different name for themselves.)
Khan apologized Sunday on Twitter.
Khan apologized in a video interview with TMZ, saying he thinks of Jenner in terms of her performance in the Olympics. However, he continued to misgender Jenner in his apology, using he/him pronouns.
You'll get there, buddy.