House Appropriations Committee votes to allow anti-LGBTQ discrimination in adoption and foster care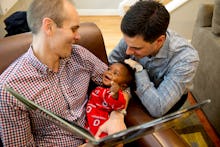 The House Appropriations Committee dealt a victory to faith-based child welfare agencies Wednesday when members voted in favor of a legislative amendment that would allow such agencies to discriminate against LGBTQ couples and other potential parents.
In a 29-23 vote, the committee approved an amendment to a proposed House funding bill that would prohibit the government from discriminating against child welfare agencies because of their "sincerely held religious beliefs or moral convictions." Any state or local government receiving federal funding cannot "discriminate or take an adverse action" against such agencies because they have "declined or will decline" to provide services based on these beliefs, the amendment states.
Additionally, the amendment mandates that the federal government withhold 15% of federal funds for states that discriminate against these faith-based agencies.
The proposed amendment is geared toward protecting faith-based adoption and foster care agencies that choose to discriminate against same-sex couples and others that violate their beliefs, including single or non-Christian parents or parents with a history of divorce.
Many of these agencies are explicit about their desire to work with Christian couples specifically. Texas-based agency Special Delivery Infant Adoption Agency stipulates that prospective couples should be a "legally married husband and wife" who are "professing Christians," for instance, while the Adoption Association of Kansas Catholic Charities requires couples to submit a letter of reference from a pastor. South Carolina-based foster care provider Miracle Hill came under fire after refusing to work with a Jewish woman who hoped to volunteer as a mentor, contending that it would only work with protestant Christians as both foster care families and staff members.
"As co-chairman of the House Coalition on Adoption, my goal was straightforward: to encourage states to include all experienced and licensed child welfare agencies so that children are placed in caring, loving homes where they can thrive," Rep. Robert B. Aderholt (R-Ala.), who introduced the amendment, said in a statement. "We need more support for these families and children in crisis, not less."
House Minority Leader Nancy Pelosi said in a statement that "Republicans' moral bankruptcy reached a sickening new low" with the amendment's passage and vowed that Democrats "will fight this disgusting, deeply immoral and profoundly offensive effort with all our strength."
The amendment comes as adoption discrimination in the name of "religious liberty" has become a hot-button issue in states across the country. The Oklahoma and Kansas legislatures passed laws in May prohibiting discrimination against these faith-based agencies, while similar measures failed in Colorado and Georgia. Other states that prohibit discrimination against these agencies for joint adoptions and foster care include North Dakota, South Dakota, Texas, Michigan, Mississippi, Alabama, South Carolina and Virginia, according to the Family Equality Council.
States with laws that prohibit discrimination on the basis of sexual orientation — and could now face funding cuts under the new amendment — include California, Nevada, New York, Massachusetts, Rhode Island, New Jersey, Maryland and the District of Columbia. California, Rhode Island, New Jersey and D.C. also prohibit discrimination based on gender identity, while Oregon and Wisconsin prohibit sexual orientation discrimination in foster care cases but not joint adoption.
While proponents point to these "religious liberty" adoption laws as a way to ensure that more children find foster care placements or adoptive families, opponents suggest the laws could actually have the opposite effect. Rep. Mark Pocan (D-Wis.) cited data during a Congressional debate on the amendment that found that in Virginia, Michigan and North Dakota, the "permanency outcome" for foster children worsened after passage of their pro-religion adoption bills and the number of overall children adopted decreased.
This may be because same-sex couples and others could be discouraged to continue the adoption process after being discriminated against by a faith-based provider.
"We can't count on prospective families who have been turned away because of their sexual orientation, faith or other religious-based criteria will continue knocking on doors of other agencies, each time facing the risk of rejection," Christie Appelhanz, director of the Children's Alliance of Kansas, told the Kansas City Star in March.
Christina Wilson Remlin, lead counsel at Children's Rights, noted in an interview that the lack of foster and adoptive homes is "one of the most pervasive problems" faced by child welfare agencies. Remlin predicted the government's policies to actively discriminate against prospective adoptive and foster parents will have a "dire and detrimental effect."
"In a context where placement problems are pervasive across the nation, the last thing we need is to discriminate against a very viable and important source for loving homes for kids," Remlin said.
The dire effects of agencies' discrimination could also extend to children themselves, even after they're placed with families. Remlin noted that LGBTQ children in the foster care or adoption system face the "real and ever-present danger" of being placed with a family who espouses anti-LGBTQ beliefs, particularly because of these discriminatory faith-based agencies.
"When you have a provider agency that espouses intolerant views and promulgates them and stands by them, that kind of culture tends to permeate down to the foster parent and adoptive parent level, so that around the kitchen table at breakfast, you have a situation in which foster parents are espousing the belief that, for example, being gay means that you should be sent to hell," Remlin said.
"In foster care systems, it's impossible to segregate every child who might be LGBTQ. It's impossible to do that. So there really is always going to be a risk that the child you assign to that foster family is themselves coming to terms with their sexual orientation or gender identity and the system doesn't know it, and they're receiving that kind of religious messaging that's informing them that because of their sexual orientation or their identity, they're going to be sentenced to hell," Remlin continued.
Despite this trend of states adopting these discriminatory adoption laws, however, there are signs of hope. Remlin points to the states where attempts to pass these laws have failed, such as Georgia and Colorado, "because there's been a tremendous outcry from the public and constituents who basically feel that this would be detrimental to the foster care system."
Americans remain largely opposed to this kind of discrimination against LGBTQ parents. A September 2017 study by the Public Religion Research Institute found that 68% of Americans believed adoption agencies receiving federal funding should not deny placements to same-sex couples.
Remlin also explained there could be a legal basis for challenging these federal funding provisions, as the Department of Health and Human Services — the source of child welfare agencies' federal funding — has a regulation prohibiting discrimination in HHS programs and services on the basis of such factors as religion, sexual orientation and gender identity. The rights of same-sex couples to adopt was affirmed by a 2016 Supreme Court ruling.
"I observe across the country systems struggling to find enough loving homes," Remlin said. "We know the LGBTQ population is full of couples who are interested in providing those kind of loving homes, and so this is a particularly horrible idea with respect to undermining and shorting the amount of loving homes able to be recruited."