What Melania Trump wore her 77th week as first lady — including in Belgium and the UK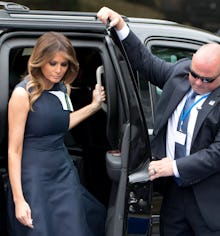 Happy Friday the 13th, everyone, let's get right into it. First lady Melania Trump had a busy week, setting off to accompany her husband, President Donald Trump, on his trip to Europe — including stops in Belgium and the U.K. But before the Eurotrip started, the first lady had some events at home, too.
Here is what she wore this week:
Sunday, July 8: A tropical Erdem dress
On Sunday, Melania Trump was spotted returning to the White House from a weekend in New Jersey, wearing an Erdem cotton sundress with a tropical parrot print. She paired the dress with orange Manolo Blahnik heels, a red belt and her classic oversized sunglasses.
Monday, July 9: A Narciso Rodriguez dress at the Supreme Court announcement
On Monday night, Trump was present in the East Room of the White House while her husband announced his nominee to replace retiring Justice Anthony Kennedy. She wore a black-and-white graphic-print Narciso Rodriquez sheath dress to watch President Donald Trump nominate conservative Brett Kavanaugh to the Supreme Court.
Tuesday, July 10: A Martin Grant skirt to leave the White House
Leaving Washington for Europe on Tuesday, Trump wore a belted A-line midi skirt from Martin Grant, paired with a red top, heels and, yet again, her classic sunglasses. So hard to know what she's thinking behind those!
Wednesday, July 11: A Calvin Klein dress to a NATO event
During Wednesday's NATO summit in Belgium, Trump attended an event for spouses of the world leaders attending. Along with 10 other spouses, Trump witnessed a concert at the Queen Elisabeth Music Chapel in Waterloo, Belgium, wearing a navy Calvin Klein dress.
Also Wednesday, July 11: An Elie Saab dress for a reception and dinner
On Wednesday evening, following a long day of NATO drama, Trump accompanied her husband to an evening reception and dinner with other world leaders and their spouses. Trump wore an Elie Saab yarn-embroidered tulle cocktail dress (available online for $7,450).
Thursday, July 12: A Roland Mouret dress to arrive in London
Arriving in London on Thursday, Trump disembarked Air Force One wearing a Roland Mouret Darley midi dress paired with nude Louboutin heels, a belt and sunglasses.
Later on Thursday, July 12: A yellow gown to a formal dinner
On Thursday evening, British Prime Minister Theresa May and her husband Philip hosted the Trumps for a state dinner at Blenheim Palace, in Oxfordshire, England, outside of London. Melania Trump wore a floaty yellow cape gown by J. Mendel to the dinner — earning her some Disney princess comparisons.
Friday, July 13: A Victoria Beckham dress for her U.K. events
On Friday, as a balloon-baby version of the president floated somewhere over London, Trump had her own solo schedule of events, playing lawn bowls with British veterans and elementary school students on Friday on the grounds of the Royal Hospital Chelsea. The first lady was accompanied by Philip May. In a nod to British fashion, Trump wore a high-neck, Victoria Beckham colorblock dress, along with a pair of Louboutins.
Also on Friday, July 13: Dior to meet the Queen
At a meeting with Queen Elizabeth II on Friday, Trump wore her hair in an updo and a Christian Dior skirt and blazer combination.
You can read previous recaps of what Melania Trump wore here.