The pizza farms outside of Minneapolis offer incredible pies — and a glimpse of life in the Midwest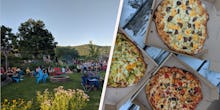 Minneapolis is an up-and-coming food city with aspirations that outstrip its flyover reputation: James Beard Award-winning restaurants, secret cocktail bars, what seems like an endless number of craft breweries. But to focus on the city's cosmopolitan developments is to miss out on the unique culinary landscape that helped develop local palates — namely, the pizza farm.
The pizza farms of Minnesota and Wisconsin are an exercise in good old Midwestern delayed gratification, the idea that a little bit of suffering makes the reward that much sweeter. That said, there are worse things in life than driving two hours out of the city, along the Mississippi River and through the early summertime expanse of shin-high corn, to feast on perfectly crackly, fresh pizzas in what feels like the middle of nowhere.
Many of these farms lie close to the border between the two states, making them easy to access from the Twin Cities. And these countryside pizza destinations make sense: They're located in the sweet spot between rural Wisconsin, known for its beauty and unrepentant love of cheese, and the Twin Cities, home to urban food lovers who crave the novelty of farm life.
Minneapolis' history as a flour-milling mecca might also have something to do with the obsession with fresh dough. Pizza is one of those seemingly universal foods that appeals to picky kids and foodies alike, and the "something for everyone" concept is very amenable to Midwestern sensibilities.
When I first moved out to Minneapolis about a decade ago, there was only "the pizza farm," a concept that sounded like something right out of a children's book: a farm that grew pizzas, from the grain to the vegetables to the cheese. A to Z Produce and Bakery has been in the pizza-making business for 20 years, and it's by far the most popular.
Located in Stockholm, Wisconsin (population: 66), on a parcel of land about 75 miles outside of the Twin Cities, the farm serves gorgeous and bubble-ridden pizzas out of its wood-burning brick oven every Tuesday night during growing season, from March through October. Your pizza might feature Italian sausage made from the farm's pigs or pesto from a blend of herbs growing just a few yards away — the toppings vary, moving from tender greens to hearty roots as the season progresses.
While the farm may also offer fresh-baked bread and Community Supported Agriculture shares, its pizza nights provide a welcome infusion of cash and company. This is serious slow food: During peak times, you may find yourself waiting upwards of two hours for your pizza. But this is the kind of place where you'd want to kill time, with plenty of sheep to greet and rows of vegetables to walk along.
These days, there are about a dozen pizza farms scattered across Minnesota and Wisconsin states. The majority are drop-in and serve pizza continuously during their designated nights. Check the schedule before you make the trip and verify whether you need to bring your own picnic blanket or chairs. In Wisconsin, bringing your own alcohol is against the law, but several farms in Minnesota allow you to bring your own beverages. If you have time and are in the Stockholm area, head to the renowned Stockholm Pie to pick up dessert beforehand.
Changing the perception of farm-to-table
While pizza has proven to be a hit for these particular farms, a diverse community of farmers — with land in Indian country and the Twin Cities metro area — have tried other unconventional means of outreach. Jose Luis Villaseñor, executive director of the Minneapolis-based Tamales y Bicicletas organization, uses food to drive local youth interest in the group's urban farm.
"We're planning to teach the youth how to make tamales by showing them how to grow the corn and mill it, and then having a local señora teach them how she makes them," Villaseñor said. "And yeah, someone [in the organization] is thinking of building a pizza oven in the space."
The pizza farms are also using pizza as a welcoming lure to educate visitors. Two Pony Gardens in Long Lake, Minnesota, uses its all-you-can-eat pizza nights to highlight what's been growing lately. During the morel and chanterelle seasons, Two Pony Gardens scatters its pies with mushrooms picked close to the property. DreamAcres in Wykoff, Minnesota, takes advantage of its pizza nights to demonstrate the appeal of alternative technologies like solar power.
Tamales y Bicicletas' urban farm, located on a former abandoned lot in Minneapolis' East Phillips neighborhood, is the organization's focal point for teaching the area's immigrant and Native American youth about food sovereignty, community organizing and indigenous growing practices. In a neighborhood where access to fresh food isn't guaranteed, the presence of a teaching farm can mean a lot.
"We want to create a space for youth interested in dissecting the food chain, starting a business or some kind of entrepreneurship or entering the farm-to-table conversation. That's how we decolonize the food system," Villaseñor said.
Like the pizza farms out in the countryside, Tamales y Bicicletas acknowledges the importance of food in getting people interested in sustainable agriculture. Its aim is to change the perception of "farm-to-table" in the city, where the term often privileges white farmers who fit the pastoral ideal. Encouraging the community to eat together on the farm is a good first step.
"The power of listening and eating together — to have conversations with abuelita and mom about how food used to be — creates a lot of space for change," Villaseñor said. "We're always out in the streets in the struggle, but at the end of the day, the work is to come home."
In a sense, pizza farms and groups like Tamales y Bicicletas are working through similar obstacles, though their audiences differ when it comes to economic classes, races and immigration statuses. What they do have in common is the knowledge that good, meaningful food — and lots of pizza — is one solid way to bring new friends and allies into the fold.