While You Weren't Looking: 5 important things Trump's Cabinet did this week that don't involve NATO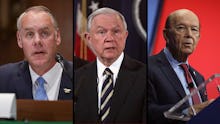 The news cycle this week was largely dominated by President Donald Trump's overseas trip to Europe, where he lambasted U.S. NATO allies while preparing for an upcoming summit with Russian President Vladimir Putin.
But as Trump's international foibles made headlines, members of his Cabinet were busy making their own moves.
Here are five important stories from the Trump administration you may have missed this week.
Wilbur Ross pledges to sell stock he promised to unload a year and a half ago
Upon taking office as secretary of commerce, billionaire Wilbur Ross signed an ethics agreement in which he committed to divesting from a large portfolio of stocks that could pose a conflict of interest while in office.
Nearly 18 months after the deadline, Ross still hasn't unloaded the last of those investments.
Acting director of the Office of Government Ethics David Apol said in a scathing letter that Ross's failure to divest the stocks by the initial deadline of Jan. 15, 2017, created the potential for a "a serious criminal violation" on Ross' part.
Ross admitted Thursday to making "inadvertent errors" in his divestitures and said he had "directed that all of [his] equity holdings be sold and the proceeds placed in U.S. Treasury securities."
Trump taps Washington insider with no space experience for No. 2 job at NASA
The Senate in April voted to confirm Jim Bridenstine, a congressman with no space experience, as NASA administrator.
The under-credentialed Bridenstine then asked the White House to appoint someone with a "technical background who understood space" to the No. 2 post at the agency, suggesting Trump choose former astronaut Janet Kavandi for the post.
Trump instead doubled down on inexperience, selecting James Morhard, a senior staffer on Capitol Hill with little to no expertise in the field.
"It's telling that Bridenstine was openly campaigning for someone with research and operational experience," Phil Larson, a former space adviser in the Obama administration, told the Washington Post. "But unfortunately, like many things this administration does, they appointed a friend of those in power who has no relevant experience or expertise."
Trump administration sues to strip a Florida grandmother of her citizenship
Norma Borgono immigrated to the U.S. from Peru in 1989. Once in the country, Borgono took a job as a secretary with an export holding company, where she became wrapped up in a scheme by her boss to falsify loan applications filed with the U.S. Export-Import Bank.
Borgono did not profit directly from the scheme and later cooperated with federal investigators to help put her boss behind bars.
Now, the Justice Department is seeking to strip Borgono of her U.S. citizenship over the incident as part of a push to denaturalize immigrants who committed crimes before becoming citizens.
The Miami Herald first reported on the case against Borgono, a grandmother who has a rare kidney disorder and is just a year away from retirement.
Federal watchdog calls on Tom Price to repay $341,000 in taxpayer money spent on personal flights
In September, Tom Price resigned in disgrace from his role as secretary of Health and Human Services after it was discovered he spent hundreds of thousands of taxpayer dollars on personal travel.
Now, a government watchdog is telling him to pay it back.
On Friday, a report from HHS's inspector general found that Price took 20 different trips in violation of federal rules and instructed the department to recover at least $341,000 from the former secretary for the travel, according to Politico.
The report also determined Price spent $1.2 million on travel during his seven-month tenure, taking a number of private chartered flights where commercial air travel was available.
Since Price's departure, a number of other Trump appointees have gotten wrapped up tin their own flight controversies, including sitting Energy Secretary Rick Perry and Interior Secretary Ryan Zinke.
Federal watchdog looks into Ryan Zinke's MAGA socks
Interior Secretary Ryan Zinke is potentially being investigated for tweeting a picture of himself wearing "Make America Great Again" socks.
Zinke reportedly may have violated federal laws against Cabinet officials engaging in electoral politics while in office.
The Office of Special Counsel confirmed to Newsweek that a case had been opened to look into Zinke's tweet, but declined to say whether an official investigation had begun.
The Interior Department's inspector general is currently investigating Zinke on allegations he used his role as a Trump Cabinet member to negotiate a land deal in his home state of Montana.