This Week in Trump-Russia News: Trump still rips Mueller probe, even as indictments pile up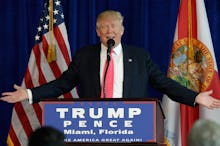 It had been dismissed as a joke.
Speaking to reporters in 2016, then-candidate Donald Trump seemed to directly call on the Kremlin to hack his opponent, Hillary Clinton.
"Russia, if you're listening, I hope you're able to find the 30,000 emails that are missing," Trump said. "I think you will probably be rewarded mightily by our press."
That July 27, 2016, comment was controversial, but it was just one of many outrageous statements Trump made during the campaign. Former White House press secretary Sean Spicer later said Trump was kidding, an assertion allies like Rudy Giuliani echoed.
But according to an indictment handed down by a grand jury Friday on the recommendation of special counsel Robert Mueller, Kremlin intelligence operatives began a spear-phishing offensive targeting Clinton and her campaign that very same day — raising significant questions about the possibility of coordination between the Trump campaign and Russia.
Here's what you need to know about the new wave of charges out of the Mueller probe and what it means for Trump, his inner circle and his planned meeting with Russian President Vladimir Putin.
Mueller indicts 12 Russian intelligence officials
A grand jury has indicted a dozen Russian military intelligence officials over the Kremlin's interference in the 2016 United States election, Deputy Attorney General Rod Rosenstein announced Friday.
The officials — all members of the GRU intelligence agency — conspired to "hack into the computers of U.S. persons and entities involved in the 2016 U.S. presidential election, steal documents from those computers and stage releases of the stolen documents to interfere with the 2016 U.S. presidential election," according to the 29-page indictment.
The conspirators allegedly used a "variety of means" to obtain the documents, which they disseminated them via fictitious online personas "DCLeaks" and "Guccifer 2.0" — the latter of whom had apparently interacted with Trump ally Roger Stone.
No U.S. citizens were named in the indictment, which Rosenstein said does not include allegations that the conspiracy impacted the results of the 2016 election.
This is the second round of charges Mueller has leveled against Russians accused of meddling in the election. In February, a grand jury indicted three Russian entities and 13 associated Russian nationals accused of using fraudulent social media accounts to try and boost Trump's candidacy.
But Friday's charges painted perhaps an even more detailed account of Russia's attempts to subvert the 2016 election — something the U.S. intelligence community and a bipartisan Senate panel have concluded was done in support of Trump.
Trump campaign appears to have ties to Russian meddlers
While Friday's indictments focus on Russia's actions in 2016, it raises significant questions about potential collusion between the Trump campaign and the Kremlin.
According to the indictment, "On or about July 27, 2016, the conspirators attempted after hours to spear-phish for the first time email accounts at a domain hosted by a third-party provider and used by Clinton's personal office. At or around the same time, they also targeted [76] email addresses at the domain for the Clinton campaign."
The date the alleged spear-phishing effort began is significant: It is the same day Trump said Russia should find Clinton's missing emails. At the time, the Clinton campaign slammed those remarks as an invitation to a foreign adversary to spy on a political opponent.
"This has to be the first time that a major presidential candidate has actively encouraged a foreign power to conduct espionage against his political opponent," Jake Sullivan, a top Clinton policy adviser, said shortly after Trump's comments. "This has gone from being a matter of curiosity and a matter of politics to being a national security issue."
But that suspicious timing isn't the only revelation in the indictment suggesting possible coordination between the Trump team and Russia. The indictment also describes several interactions between Guccifer 2.0 and "a person who was in regular contact with senior members of the presidential campaign of Donald J. Trump" — an unnamed figure some have speculated could be Stone, who admitted to having contact with Guccifer 2.0.
It also alleges the Russians used an unnamed organization to release some of the documents stolen from Clinton and the Democrats. WikiLeaks, which many believe is the organization referred to in the charges, was in contact with several Trump figures at the time, including Donald Trump Jr. — the president's eldest son.
Then-candidate Trump also praised the organization several times from the campaign trail, at one point saying, "WikiLeaks! I love WikiLeaks!"
Trump's allies say indictment shows "no collusion"
Trump's allies on Friday claimed the indictment cleared the president of wrongdoing.
The White House released a statement that did not comment on the apparent attack by the Russians on the U.S. election, but asserted the indictment was "consistent" with what Trump has been saying all along.
"Today's charges include no allegations of knowing involvement by anyone on the campaign and no allegations that the alleged hacking affected the election result," a White House spokesperson said. "This is consistent with what we have been saying all along."
Rudy Giuliani, the public face of Trump's legal team, tweeted that the charges were "good news for all Americans" because it "nailed" the Russians but absolved U.S. citizens of wrongdoing.
"No Americans are involved," Giuliani tweeted. "Time for Mueller to end this pursuit of the President and say President Trump is completely innocent."
The GOP also used Rosenstein's announcement to provide cover for Trump, tweeting a video of the deputy attorney general's presser and remarking that, "As [the president] has been saying all along: No collusion."
Republicans rage against Strzok in testy hearing
The indictment came a day after a remarkably contentious Capitol Hill hearing over the anti-Trump text messages FBI agent Peter Strzok exchanged with bureau lawyer Lisa Page in 2016. The hearing became a marathon interview Democrats said was a Republican attempt to undermine the Mueller probe.
Strzok — who worked on the FBI's investigations into Clinton's handling of classified information and into the Trump campaign's ties to Russia — told members of two House panels Thursday that his personal political opinions did not "impact any official action I took."
He also defended the probe against accusations of political bias, as Trump and his allies have routinely alleged.
"This investigation is not politically motivated," Strzok said. "It is not a witch hunt. It is not a hoax."
But Republicans aggressively went after the FBI agent during hours of combative questioning, leading to angry confrontations with both Strzok and their Democratic colleagues, who argued Republicans like Reps. Bob Goodlatte of Virginia and Trey Gowdy of South Carolina were subjecting him to "harassment."
Perhaps the most heated exchange of the spectacle came during a line of questioning by Rep. Louie Gohmert (R-Texas), who called Strzok a "disgrace" and took a shot at him over his affair with his FBI colleague.
"I can't help but wonder, when I see you looking there with a little smirk, how many times did you look so innocent into your wife's eyes and lie to her about Lisa Page?" Gohmert said.
Democrats erupted in anger over the personal jab — "You need your medication!" Rep. Bonnie Watson Coleman (D-N.J.) shouted at Gohmert — and Strzok sharply condemned the Texas Republican, saying the remark revealed more about "your character and what you stand for" than it did his own.
Democrats call on Trump to cancel Putin meeting
The indictments came days before Trump's planned meeting with Putin, a summit that is expected to include a one-on-one sit-down.
Democrats called on Trump to cancel the meeting following Rosenstein's announcement of the new charges Friday.
Sen. Mark Warner (D-Va.) — the top Democrat on the Senate Intelligence Committee, which has backed the assessment of the U.S. intelligence community that Russia meddled in 2016 to help Trump and hurt Clinton — called for the one-on-one portion of the meeting to be called off.
"There should be no one-on-one meeting between President Trump and Vladimir Putin on Monday," Warner tweeted. "There must be Americans in the room. If the President won't make Russia's attack on our election the #1 issue at the summit, then it should be canceled."
Trump is due to meet Putin following a wild week abroad at the NATO summit and in a working visit to the U.K. According to the White House, the meeting will go on as scheduled.
Trump on Thursday said he would ask Putin about the Kremlin's election interference, but indicated he wouldn't press him further should Putin deny the allegations and again suggested he would seek warmer relations between the two countries.
Those comments seem odd in retrospect, given Rosenstein had already briefed Trump on the pending indictments.
Though Friday's charges outline what amounts to an attack on the U.S. election system, Trump has refused to adopt the same tough posture on Putin that he's taken against longstanding allies, instead continuing to attack the Mueller probe.
"I think that we're being hurt very badly by the — I would call it 'the witch hunt.' I would call it 'the rigged witch hunt,'" Trump said of the Mueller investigation in a press conference with British Prime Minister Theresa May on Friday, hours before the indictments were announced. "I think that really hurts our country and it really hurts our relationship with Russia. I think that we would have a chance to have a very good relationship with Russia."