Scarlett Johansson drops out of 'Rub & Tug' amid backlash for playing a trans man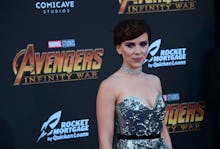 Over a week after Scarlett Johansson dismissed criticism surrounding her decision to portray real-life figure Dante "Tex" Gill — a transgender man who had a massage parlor and sex work business in Pittsburgh in the 1970s and '80s — in an upcoming film, the actress has announced that she won't be a part of the project after all.
Johansson made the announcement in a statement to Out Magazine, and also acknowledged that her first statement, which shrugged off criticism of her decision to take the role in the forthcoming film Rub & Tug, was "insensitive."
"In light of recent ethical questions raised surrounding my casting as Dante Tex Gill, I have decided to respectfully withdraw my participation in the project," Johansson said in her latest statement. "Our cultural understanding of transgender people continues to advance, and I've learned a lot from the community since making my first statement about my casting and realize it was insensitive. I have great admiration and love for the trans community and am grateful that the conversation regarding inclusivity in Hollywood continues. According to GLAAD, LGBTQ+ characters dropped 40% in 2017 from the previous year, with no representation of trans characters in any major studio release."
Initially, the news of Johansson's casting as Gill inspired widespread backlash, due to the fact that trans characters are almost always portrayed in mainstream films by cisgender people. Trans people simply are not offered the same opportunities in the acting world that cisgender people are. (Criticism was magnified given that Rub & Tug is set to be directed by Rupert Sanders, who also directed Johansson in Ghost in the Shell, a movie that inspired similar criticism surrounding her role as a character that was originally Japanese in its source material.)
Trans actors like Trace Lysette (Transparent) and Jamie Clayton (Sense8) offered their thoughts after news of Johansson's casting broke.
In immediate response to the backlash, Johansson provided a statement to Bustle which disregarded the criticism by citing examples of other cisgender people who have also played trans people.
"Tell [my critics] that they can be directed to Jeffrey Tambor, Jared Leto and Felicity Huffman's reps for comment," Johansson said.
It remains to be seen who will now step into the role of Dante "Tex" Gill for Rub & Tug, which is currently in pre-production.