Lawyer for Harvey Weinstein says he never admitted to exchanging sex for movie roles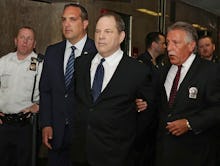 Disgraced Hollywood producer Harvey Weinstein, who last month pled not guilty to two counts of rape and one count of a criminal sex act in New York City, was quoted as saying, "Yes, I did offer them acting jobs in exchange for sex, but so did and still does everyone. But I never, ever forced myself on a single woman," in an interview with columnist Taki Theodoracopulos of the Spectator.
Just hours after publication, however, the Hollywood Reporter reported that Theodoracopulos had issued a retraction — and Benjamin Brafman, a lawyer for Weinstein, said in a statement that Weinstein had never made the comment "about trading movie roles for sexual favors. You have my word that Harvey did not say that."
According to Theodoracopulos' original column, published on Friday, Weinstein reached out to him. Theodoracopulos, incidentally, describes sex as "Bing-Bing" and has mocked the #MeToo movement. In his conversation with Weinstein, Theodoracopulos noted, "I have doubts about women who come out of the woodworks years later, or return for more after allegedly being raped by Weinstein."
Theodoracopulos claimed that Weinstein told him, "I was born poor, ugly, Jewish and had to fight all my life to get somewhere. You got lotsa girls, no girl looked at me until I made it big in Hollywood. Yes, I did offer them acting jobs in exchange for sex, but so did and still does everyone. But I never, ever forced myself on a single woman."
But Brafman told the Hollywood Reporter that his client never made that comment. "I was present for the conversation; it was not an interview, but a social meeting between old friends," Brafman said. "Harvey and Taki did not discuss the case, nor would I allow him to."
In his own statement to the Hollywood Reporter, Theodoracopulos said, "After 41 years as a Spectator columnist without a single retraction, I believe that I may have misrepresented Harvey Weinstein's conversation with me in New York last month. It was my mistake. We were discussing Hollywood and I may have misunderstood certain things about the methods of that place. I had nothing to do with the headline of my article and I hope I have not damaged his case. it was, after all, a social visit."
In addition to the criminal charges he is currently facing, numerous women have come forward to allege that Weinstein sexually harassed or assaulted them. A New York Times report published in October 2017 detailed allegations against Weinstein that went back decades and were allegedly somewhat of an open secret in Weinstein's elite Hollywood circles.
That bombshell report became one of the foundational moments for the #MeToo movement, a reckoning of a culture in Hollywood — and beyond — that has tolerated sexual abuse and silenced victims. The Times report was followed by yet another report detailing allegations against Weinstein, this time in the New Yorker. In that report, three women accused Weinstein of rape and four women said that Weinstein had exposed himself to them or masturbated in front of them. As with the Times story, many of Weinstein's alleged victims said they were frightened to speak out.
Brafman, Weinstein's attorney, has seemed to indicate that his defense will hinge on the idea that Weinstein is innocent of any crimes and merely participated in a behavior that was rampant in Hollywood. In May, Brafman said, "Mr. Weinstein did not invent the casting couch in Hollywood ... And to the extent that there is bad behavior in that industry, that is not what this is about. Bad behavior is not on trial in this case. It's only if you intentionally committed a criminal act, and Mr. Weinstein vigorously denies that."