Mic Daily: Russian intelligence indicted, Scarlett Johansson drops out of 'Rub & Tug' and more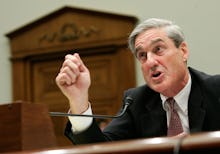 Welcome to Mic Daily: Mic's newsletter that cuts through the noise and lands in your inbox every weekday. We carefully curate each edition to send you a cross section of our most vital stories of the day. Want to receive this as a daily email in your inbox? Subscribe here.
Deputy Attorney General Rod Rosenstein announced Friday that special counsel Robert Mueller's team had secured the indictments of 12 Russian intelligence officers accused of hacking into computers used by the Democratic National Committee, Democratic presidential nominee Hillary Clinton and the Democratic Congressional Campaign Committee.
The Trump administration said Thursday it had completed the court-ordered reunification of the youngest group of separated immigrant children with their parents. But while the group comprised 103 children — all under the age of 5 — only 57 of them actually made it back to their families.
In an interview published Friday, Harvey Weinstein was quoted as saying, "Yes, I did offer them acting jobs in exchange for sex, but so did and still does everyone." Hours later, the story changed.
Over a week after Scarlett Johansson dismissed criticism surrounding her decision to portray real-life figure Dante "Tex" Gill — a transgender man who had a massage parlor and sex work business in Pittsburgh in the 1970s and '80s — in an upcoming film, the actress has announced she won't be a part of the project after all.
Don't forget: Mic Dispatch premieres soon on Facebook Watch
Mic's new correspondent-led newsmagazine show, Mic Dispatch, premieres Tuesday. Twice a week, our news team will bring you exclusive reporting on this momentous cultural era the way we see it: complicated, diverse and full of potential. Subscribe here for alerts on new episodes and tune in Tuesdays or Thursdays on Facebook Watch here.