How Trump and his allies are trying to undermine Rosenstein and Mueller for doing their jobs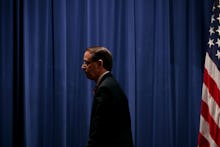 House Republicans are planning to impeach Deputy Attorney General Rod Rosenstein — even after he announced charges brought by special counsel Robert Mueller on Friday against a dozen Russian intelligence operatives accused of attacking the U.S. election system in 2016.
According to Politico, members of the conservative House Freedom Caucus could produce an impeachment filing against Rosenstein — who has overseen Mueller's Russia probe since early 2017 — as early as Monday. They're currently working to build support among other House Republicans.
The deputy attorney general's job security has been a matter of speculation for months amid President Donald Trump's increasingly direct campaign to undermine his investigators. But the latest threat to Rosenstein comes as Mueller's investigation appears to be ramping up.
While many prominent U.S. officials, including Sen. John McCain (R-Ariz.), have praised Mueller's team for its work and called for Trump to confront Russian President Vladimir Putin over Moscow's interference in the 2016 election, Trump and his allies have continued to go after the investigators.
Reps. Mark Meadows (R-N.C.) and Jim Jordan (R-Ohio) are renewing their effort to oust Rosenstein, according to Politico, and spent Thursday bashing FBI agent Peter Strzok in an acrimonious hearing that quickly descended into a partisan proxy battle over the Mueller probe's legitimacy.
Strzok has been under fire for anti-Trump texts he exchanged with an FBI lawyer with whom he was having an affair while he worked on investigations into both the Trump campaign's ties to Russia and Hillary Clinton's handling of classified information.
The embattled agent defended those probes Thursday, telling representatives on Capitol Hill the investigation into Trump is "not a witch hunt."
"This investigation is not politically motivated," Strzok said. "It is not a hoax."
But Trump has continued to characterize it as such, even though Rosenstein briefed him on the pending indictments before the president left for a trip to Europe, which could include a one-on-one meeting with Putin.
"I think that we're being hurt very badly by the — I would call it 'the witch hunt.' I would call it 'the rigged witch hunt,'" Trump said of the Mueller investigation in a press conference with British Prime Minister Theresa May on Friday, hours before the indictments were announced. "I think that really hurts our country and it really hurts our relationship with Russia. I think that we would have a chance to have a very good relationship with Russia."
He has also continued to praise Putin himself.
"He's been very nice to me the times I've met him," Trump said Thursday after the NATO summit. "I've been nice to him. He's a competitor. You know, somebody was saying, 'Is he an enemy?' No, he's not my enemy. 'Is he a friend?' No, I don't know him well enough. But the couple of times that I've gotten to meet him, we got along very well. You saw that."
Trump has long been rumored to be considering firing Rosenstein, a move that would likely be considered an attempt to kneecap Mueller. It's not clear, however, if a move to impeach Rosenstein would gain traction.
The deputy attorney general, who does not appear to have responded to the apparent effort to oust him, called for the nation to unify behind the probe Friday as he announced the charges against the 12 Russians.
"Our response must not depend on which side was victimized," Rosenstein said. "We need to work together to hold the perpetrators accountable."