FEC: Elon Musk contributed thousands to conservative PAC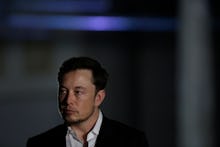 Tesla founder Elon Musk — who gave money to Hillary Clinton's presidential campaign — donated nearly $40,000 this year to a conservative political action committee aimed at protecting a Republican majority in the House of Representatives, according to Federal Election Committee findings released this week.
Musk contributed $38,900 to the Protect the House PAC, making him one of the top 50 donors to the group.
The revelation about the donation has called into question Musk's reputation as a socially liberal billionaire.
Musk has been critical of Trump in the past, saying days before the 2016 election that the Republican was "not the right guy" to be president.
He made waves in 2017 when he quit Trump's business advisory councils over the president's decision in June of that year to leave the Paris climate accord.
"Am departing the presidential councils," Musk tweeted at the time. "Climate change is real. Leaving Paris is not good for America or the world."
His contributions to the Protect the House PAC put him in a group of wealthy donors that include the Trump-aligned casino magnate Sheldon Adelson.
Protect the House was launched in the late summer of 2016 to support congressional Republicans.
The group has supported numerous high profile Republicans, according to the FEC, including House Majority Leader Kevin McCarthy — a friend of Musk.