Protesters and police clash in Chicago following shooting of black man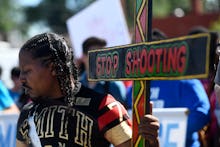 About 150 protesters took to the streets Saturday night on the South Side of Chicago after police officers fatally shot an African-American man following a confrontation.
Police officers first observed a man "exhibiting characteristics of an armed person," Anthony Guglielmi, chief communications officer for the Chicago Police Department, said on Twitter. Patrol chief Fred Waller later said at a press conference that officers "saw a subject that they thought might have been armed around his waistband." The man reportedly became combative and began "flailing and swinging" at police when they approached him.
An officer opened fire when it appeared the man was reaching for a weapon, Waller added. The man later died at Jackson Park Hospital.
Witness Gloria Rainge told the Chicago Sun-Times that officers instructed the victim not to sell loose cigarettes, which he denied doing. The argument escalated and an officer fired his weapon as the victim attempted to run away, she said.
Though police have yet to release the victim's name, activist organization Black Youth Project 100 identified him on Twitter as local barber Harith "Snoop" Augustus.
No officers were injured during the shooting, which Fox 35 Chicago reported is now being investigated by Chicago's Civilian Office of Police Accountability to determine whether the deadly use of force was justified. Four officers have been placed on administrative duty, the HuffPost reported.
Following the shooting, which took place around 5:30 p.m. Central time, protesters took to the streets and began shouting "murderers" and obscenities at officers. The scuffle turned violent; protesters reportedly tossed rocks and bottles and jumped on police cars, and police hit protesters with batons as protesters returned punches.
"Every time they kill one of us they're doing an injustice to everybody," South Side resident Aldo Reyes told the Sun-Times at Saturday's protest. "They feel the heat, they know they're wrong."
Guglielmi said on Twitter that four protesters were arrested and several police officers injured during the protests. The scene of the shooting and protest was cleared by 10:30 p.m. Central time.
The protest came amid long-simmering tensions over frequent instances of police shootings and brutality against African-American residents in both Chicago and across the country. A Justice Department report issued in January 2017 determined Chicago police officers were guilty of frequently using "excessive force" against the city's African-American and Latino populations.
A viral Facebook video released Monday showed a Chicago police officer saying "I kill motherfuckers" to the group of black residents filming the video. The officer also threatened to arrest them for walking in the street.
"We just want to live," an unnamed woman at the Saturday protest told the Sun-Times. "Our black kids keep getting killed. We just want to live."