Hype Daily: A World Cup interruption, Beyoncé's Paris concert and more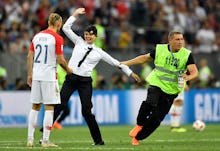 Welcome to Hype Daily, Mic's morning entertainment roundup. Here's everything you need to catch up on in the entertainment world and what to look forward to today. Want to receive this as a daily email in your inbox? Subscribe here.
Good morning from Hype reporter Anna Swartz.
Pussy Riot says it was behind a World Cup disturbance
The final match of the World Cup happened Sunday (France beat Croatia, in case you weren't paying attention). But the game, held in Moscow's Luzhniki Stadium, was briefly interrupted by four people who ran onto the soccer field dressed as Russian police officers, the Associated Press reported Sunday.
The activist band Pussy Riot, a Moscow-based feminist rock group that has long opposed Russian President Vladimir Putin and his policies, claimed credit for the interruption on Twitter, writing, "NEWS FLASH! Just a few minutes ago four Pussy Riot members performed in the FIFA World Cup final match." The group linked to a statement with a list of demands, including, "Let all political prisoners free" and "Allow political competition in the country."
Sacha Baron Cohen's new show premiered last night
Comedian Sacha Baron Cohen's new Showtime series Who Is America? premiered Sunday night — you know, the project that apparently duped conservative figures like Sarah Palin and Roy Moore. In it, Cohen plays new characters, including an Israeli gun enthusiast and an Alex Jones-esque "journalist."
Reviews have been ... mixed to say the least. Variety called it "as richly comic as anything Baron Cohen has done in the decade-plus since Borat and urgently resonant with our own era," while Vox called it "a grim, vaguely nihilistic show that uses a patina of political divisiveness to make fun of everybody it can find." Hmm.
Michelle and Sasha Obama were spotted at a Beyoncé and Jay-Z concert in Paris
Former first lady Michelle Obama (along with former first daughter Sasha Obama) was spotted bopping at a Beyoncé and Jay-Z concert at Stade de France in Paris Sunday — part of the couple's On the Run II tour. Michelle Obama was reportedly hanging out in the front row with Beyoncé's mom, Tina Knowles Lawson. This wasn't the first time the Obama family has made an appearance at a Beyoncé concert — back in 2014, Michelle, Sasha and Malia Obama all went to see Bey and Jay in Chicago.
The Downton Abbey movie is going to start production this summer
Downton Abbey, the much-lauded British period drama that aired on PBS in the U.S., is officially becoming a film — years after the show ended. Producers confirmed that a movie based on the series will begin production this summer, and BBC reported Friday that the "original principal cast" would return. Downton Abbey creator Julian Fellowes will write the screenplay and Brian Percival will direct. Pip pip, cheerio, or something like that.
Put this on your radar: Comedian Bowen Yang did a perfect lip-sync to a Sandra Oh monologue from Grey's Anatomy
Perhaps in honor of Sandra Oh's historic Emmy nomination for Killing Eve or perhaps not, comedian Bowen Yang tweeted out a video of himself doing a perfectly matched lip-sync to one of Oh's monologues from Grey's Anatomy. Yang nails the timing, the dramatic pauses — even the facial expressions. The video has gone viral and earned Yang compliments from Sarah Silverman and Adam Rippon, among others. Watch the whole thing here.