Today in Trump's America: Trump doesn't say he'll bring up Russian hacking in meeting with Putin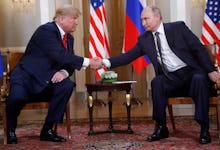 Welcome to Mic's daily read on Donald Trump's America. Want to receive this as a daily email in your inbox? Subscribe here.
Good morning from Emily Singer at Mic.
Here's what's happening in Trump's America:
• It's a high-stakes Monday for Trump, as he meets with Russian President Vladimir Putin in Helsinki.
About this morning: Trump does not say Russian election hacking is on the Putin meeting agenda
Trump is sitting down alone with Putin Monday morning in Finland for a high-stakes meeting — especially in light of the indictment of 12 Russian military officials that the United States says hacked into Democratic candidate and committee emails in order to sow chaos in the 2016 election.
The indictments of the Russian military officials Friday created a clear line of questioning Trump could ask Putin, yet Trump seems unlikely to push Putin on the hacking.
In tweets prior to the meeting, Trump continued to call special counsel Robert Mueller's investigation that led to the indictments a "rigged witch hunt" and blamed the hacking on former President Barack Obama rather than Putin.
Russia endorsed Trump's comments.
And in a quick on-camera statement alongside Putin before their closed-door meeting, Trump did not mention election hacking when he rattled off a list of topics he wanted to discuss with Putin.
If Trump does not forcefully bring up Russia's election hacking, he will open himself up to yet more criticism from both the left and the right, among those who believe Trump is not taking the hacking seriously and is not working hard enough to prevent Russia from sowing chaos in U.S. elections again.
"Trump blames America, not Russia, for Russia's attack on our election," former Rep. Joe Walsh (R-Ill.), a conservative pundit and Trump supporter, tweeted Monday morning. "That's like blaming America for 9/11. Despicable."
Today in Trump's America: America waits with bated breath to see what comes out of Trump-Putin summit
As Trump meets behind closed doors with Putin, the country is holding its breath to see what comes out of the meeting, particularly because the purpose of it was never fully clear.
The indictments of the 12 Russian military officials just days before the meeting offered Trump a clear roadmap for what to discuss with Putin. Director of National Intelligence Dan Coats told CBS's Norah O'Donnell that Trump should bring up the hacking in his meeting.
"My message would be: We know what you're doing and we know you know what you're doing and what we're doing … you make the choice. But if you want to stay in this tit for tat we're going to beat you," Coats said.
Yet Trump seemed both unlikely and unwilling to broach the topic in the sit-down with Putin, leaving election hacking off the list of topics he wants to speak to Putin about this morning.
The two leaders will hold a joint news conference after the meeting, where the men will ostensibly give details of what they spoke about.
It will be interesting to see whether the men take questions and if so, what reporters ask, given that both Trump and Putin have attacked the press, with Putin going as far as ordering adversarial reporters killed.
And the rest…
Trump again shows no knowledge of world politics: Before his meeting with Putin Monday morning, Trump met with the Finnish president, whose country is hosting the Trump-Putin summit. In remarks before their meeting, Trump said he enjoyed meeting with the Finnish president at NATO. "I enjoyed being with you a couple of days ago. NATO has, I think, never been stronger," Trump said. Finland, however, is not a member of NATO.
Trump hurts relationships with allies: Germany, one of the United States' strongest allies, says it "can no longer completely rely on the White House," after Trump called the European Union a "foe" on trade, Reuters reported. Trump made the comment during an interview with CBS News that aired Sunday.
Sacha Baron Cohen dupes Republicans: Comedian Sacha Baron Cohen duped a handful of Republican congressman into believing he was an Israeli gun enthusiast and got the GOP politicians to endorse arming toddlers. Republicans in that segment include GOP Reps. Matt Gaetz of Florida, Dana Rohrabacher of California and Joe Wilson of South Carolina as well as former Mississippi Republican Sen. Trent Lott.