Trump says he believes Putin, not US intelligence community, on election hacking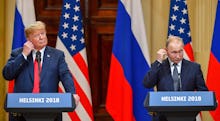 President Donald Trump refused to stand up for United States interests during a news conference with Russian President Vladimir Putin on Monday, saying he still does not believe Russia was responsible for hacking and interference in the 2016 election.
"My people came to me, [Director of National Intelligence] Dan Coats came to me, some others, they said they think it's Russia," Trump said. "I have President Putin. [Putin] just said it's not Russia. I will say this, I don't see any reason why it would be."
After being asked by a reporter whether he would warn Putin not to interfere in any more U.S. elections, Trump declined to do so and went on to spout conspiracy theories about the Democratic National Committee servers and Hillary Clinton's emails.
Putin, for his part, also hamstrung Trump, admitting that he wanted Trump to win over Clinton.
And Putin refused to deny that Russia had compromising information on Trump.
The news conference is being widely described as a disgrace by both Democrats and Republicans.
"Disgusting," conservative columnist Philip Klein tweeted. "Trump, given chance to criticize Putin actions, embraces false equivalence that both sides are to blame, talks no collusion, but declines to criticize Putin for interference."
And former CIA Director John O. Brennan going as far as to call Trump's performance "treasonous."
"Donald Trump's press conference performance in Helsinki rises to & exceeds the threshold of 'high crimes & misdemeanors,'" Brennan tweeted. "It was nothing short of treasonous. Not only were Trump's comments imbecilic, he is wholly in the pocket of Putin. Republican Patriots: Where are you???"