In a new lawsuit, the creators of the 'S-Town' podcast are being accused of exploiting John McLemore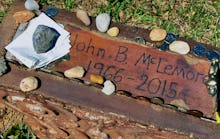 A new lawsuit alleges that the team behind the hit 2017 podcast S-Town exploited the show's subject, John B. McLemore, and claims that the show revealed details of McLemore's private life without his consent. S-Town, produced by the makers of Serial and This American Life, was hosted by TAL producer Brian Reed.
According to local outlet AL.com, the lawsuit was filed on Thursday by Craig Cargile, the administrator for McLemore's estate, and names Reed, Serial Productions, This American Life and Chicago Public Media as defendants.
The suit alleges that McLemore, who had initially reached out to This American Life in 2012 with a story about a suspected murder in his town, had never given consent for the show to share "the intimate details of his sexual orientation and experiences, depressed thoughts, suicidal ideations, financial affairs, physical and mental health issues, and his interpersonal relationships with friends, family members and sexual partners."
S-Town began with somewhat of a red herring, hinting that it might investigate a crime in the rural town of Woodstock, Alabama — a suspected murder that McLemore believed had taken place — but the show focused instead on McLemore himself. McLemore's death by suicide in 2015, after he and Reed had been in contact for years, became a central focus of the series. Reed's investigation into McLemore's life touched on his hobbies and relationships, and then details of his sexuality, including his sexual orientation and sexual preferences, as well as McLemore's mental health in what the show billed as "an unearthing of the mysteries of one man's life."
Like Serial before it, S-Town was a massive hit. It was downloaded more than 10 million times in the first four days of its release, and it won a Peabody Award this year. But even at the height of the series' popularity, critics were questioning the ethics of the show's focus on McLemore. In April 2017, Vox published a piece with the headline, "S-Town is a stunning podcast. It probably shouldn't have been made."
The article questioned Reed's choice to reveal McLemore's queerness, his depression and suicidal thoughts and his participation in what seemed to be a BDSM practice, saying that "S-Town's speculation regarding John's psyche is painful and personal, and often disconcerting in its intimacy." A piece in the Atlantic from April 2017 similarly questioned the ethics of delving so deeply into McLemore's identity without clear consent from the show's subject: "Did McLemore know he was giving permission for Reed to reveal intimate details about his sexual liaisons, his pain fetishes, his financial situation?"
The new suit is seeking "punitive damages and profits from the podcast," AL.com reported. In a statement to the Associated Press on Saturday, S-Town executive producer Julie Snyder said the suit "lacks merit," and that "S-Town is produced consistent with the highest journalistic standards and we intend to defend against this lawsuit aggressively."