Stories That Pay Off: How Kylie Jenner became the richest person in her family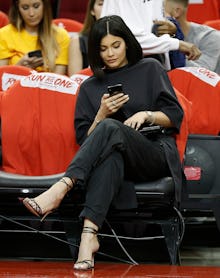 This week, we launched a new column, Money Confession, which looks into bad money habits and how to solve them. If you have a story to share, send it to us at moneyconfession@mic.com — we can keep your identity anonymous — and we'll help you work it out in a future column. In other news, we looked into just how Kylie Jenner became the richest person in the Kardashian-Jenner family and interviewed the researchers behind that depressing study about women not getting raises as often as men do.
"I cough up my card for co-pays or prescriptions in person, and I'm a freelancer who pays for her own insurance via an automatic bill pay. But it's everything in the middle, all the exams and cultures and procedures, that don't get paid. And what's worse? Nothing ever happens. It feels like my negligence is never punished." Read more here.
Researchers found that when they ask for raises, men obtain it 20% of the time, while women only get it 15% of the time. Read more here.
According to Forbes, Kylie Jenner is approaching 10 figures in net worth at 20 years old. Here's how the cosmetics mogul and reality TV star made her fortune. Read more here.